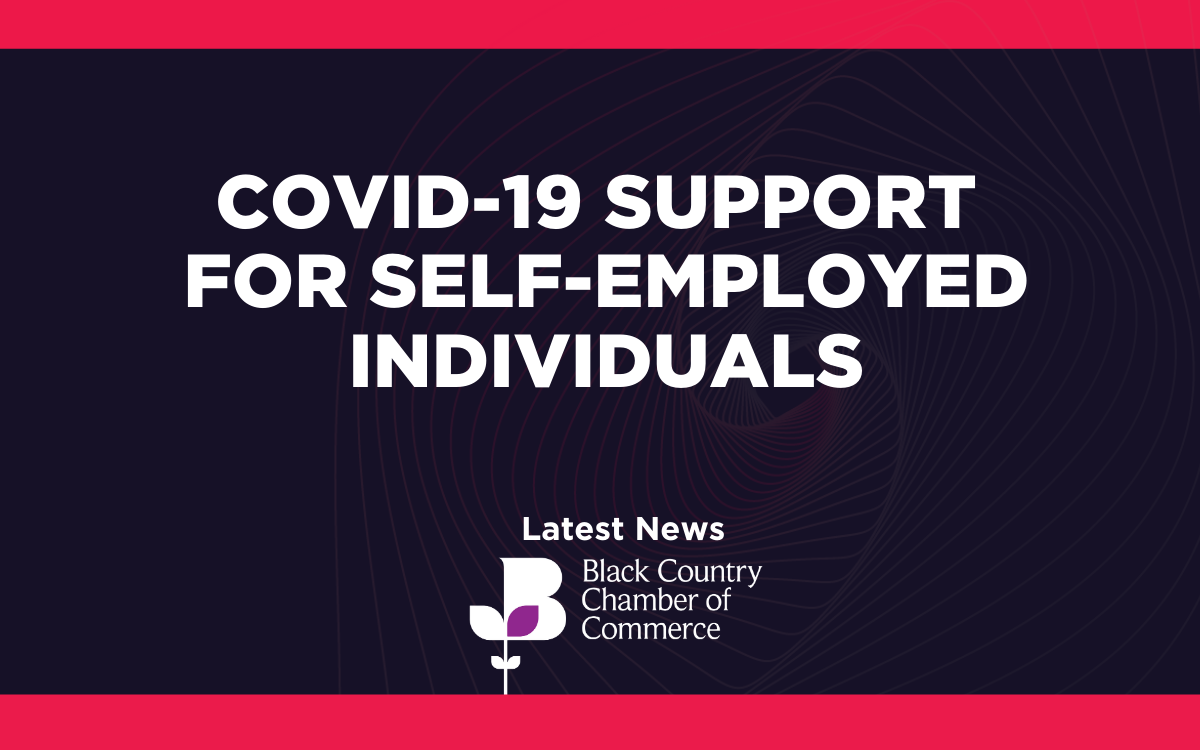 Government Announces Self-Employed Income Support Scheme
26 Mar 2020
Published in: Black Country Chamber of Commerce News
---
Details of support for self-employed individuals impacted by COVID-19
---
Self-employed workers who have been facing financial difficulties as a result of Coronavirus were thrown a lifeline this evening as the Chancellor announced a package of government support to help many thousands of people.
This evening, the Government announced measures for self-employed individuals who find themselves facing financial difficulties as a result of COVID-19 and the impact of recent social distancing policies.
The Chancellor, Rishi Sunak, said the support would be in place for at least three months and amounted to 'one of the most generous packages in the world'.

The measures announced will enable self-employed individuals to access up to 80% of their monthly wage which will be paid by the Government.
The support will be a taxable grant worth 80% of their average monthly profits over the past three years (capped up to £2,500 per month).
HMRC will contact self-employed individuals directly and invite them to complete a form to pay this scheme directly into bank accounts. The scheme is scheduled to be live by June.
Adam Marshall, Director General of the British Chambers of Commerce said: 'The Chancellor's announcement offers a lifeline to the vast majority of the UK's 5 million self-employed people, many of whom have seen their livelihoods vanish overnight. Chambers, along with other business groups, have worked constructively with the government to ensure the self-employed receive similar support to those who are employed through PAYE. We welcome the scale of this scheme and recognise the complexities involved in its design. It is now critical that the government delivers this practical support to people on the ground as soon as possible.'
Corin Crane, CEO of the Black Country Chamber of Commerce added, "I welcome these announcements, they are encouraging for those across our region who are self-employed, and it must come as a huge relief to many people. We will now speak to our members and monitor the feedback from those who will benefit from these measures as we continue to advocate and lobby on their behalf.'
Prior to this evening's news conference, the government had been under growing pressure to support the self-employed with a similar package of measures as introduced for employed workers. Last week, the chancellor promised to pay 80% of salary for staff employees who are kept on by their employer, covering wages of up to £2,500 a month.

Who is eligible?
Open to self-employed individuals across the UK
Self-employed individuals will be able to continue to earn and claim the grant money
Applies to those with trading profits up to £50,000 as a year
The scheme is only open to those self-employed who are already self-employed and have completed a self-assessment tax return for 2019 (the Chancellor has also extended the 2019 deadline date by an additional 4 weeks)
For further details on eligibility and accessing the scheme, please visit the government's business support page here.
The Chamber will continue to monitor these developments and provide in-depth analysis as we learn more. Businesses can contact the Chamber's support line on 01902 912 322. Find out more about our COVID-19 Business Guidance Package here.