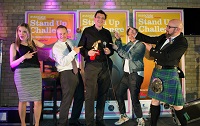 Grand Theatre 'Number Cruncher' Crowned Stand-Up Challenge Champion
30 Apr 2018
Published in: Black Country Chamber of Commerce News
---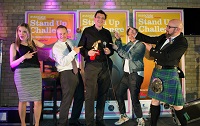 Iain Watkins, assistant director of information and data management at the Wolverhampton Grand Theatre, was confirmed champion of the 2018 Wolverhampton Stand Up Challenge, following a wildly entertaining evening at the Molineux stadium.
The evening, hosted by professional comedian, Carly Smallman, formed part of the Black Country Business Festival - two weeks of business events running from 23 April to 4 May.
---
Iain was one of five Black Country business contestants which included Sarah Bishop from Recruit Recruit; Kim Izzard from Brookstreet; Paul Lewis from Forces Recruitment Services; and James Thomas-Horton from Casino 36 who bravely fought for the prestigious title by performing their first, original, five-minute comedy routine on stage to a live audience.
He said, "It was one of the most nerve-racking yet at the same time, exhilarating experiences of my life. Following months of preparation, blood, sweat and tears, the time flew by and it was all over in just five minutes. But it was lots of fun and all for a good cause. Don't tell my boss but I am now considering a career change."
The Stand Up Challenge is a charitable event presented by Associate Events. Proceeds from the evening go towards Big Difference Company charity - a Midlands-based organisation that is committed to life changing schemes and projects. The event is sponsored by the Black Country Chamber of Commerce, the Black Country Business Festival, Creative Black Country, supported by the Molineux Stadium and delivered by Associate Events.
Corin Crane, chief executive of the Black Country Chamber of Commerce said, "This was the second Wolverhampton Stand Up Challenge and along with Creative Black Country, we have supported it since it was introduced last year.
"This has been one of my favourite events of the Business Festival so far. It never fails to disappoint. The contestants - despite any nerves they may have had - were all hilarious to watch in many different respects! They were great sports for taking part and importantly have helped to raise lots of money for a worthy cause. I am already looking forward to the next Stand Up Challenge."
Iain's winning performance can be seen here: http://bit.ly/SUC18Winner
For more information on the Black Country Business Festival including tickets to other events, visit the website www.blackcountrybusinessfestival.com. If there are any future, willing contestants, Associate Events would be delighted to hear from them.
Comments
No comments have been submitted yet.