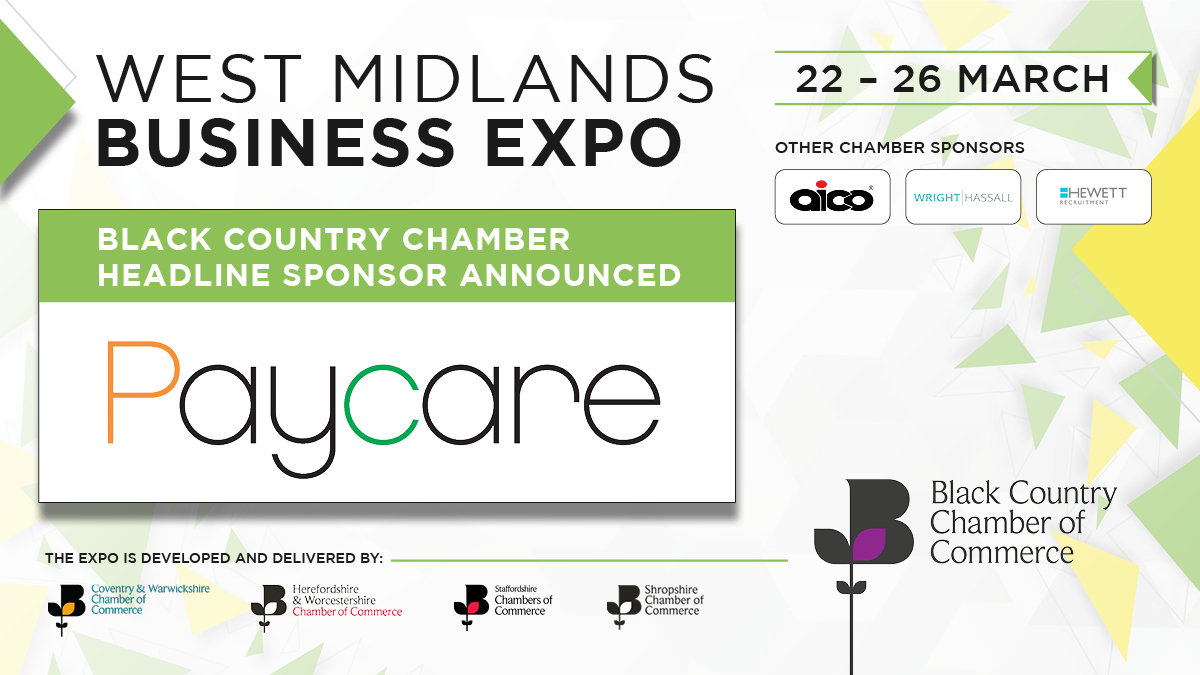 Headline Sponsor Announced for Major Chamber Collaboration
23 Feb 2021
Published in: Black Country Chamber of Commerce News
---
Headline Sponsor Announced for Major Chamber Collaboration
---
Headline Sponsor Announced for Major Chamber Collaboration
The Black Country Chamber of Commerce have today announced the headline sponsor for the West Midlands Virtual Business Expo, a week-long celebration of businesses across the West Midlands, Staffordshire, Shropshire, Herefordshire and Worcestershire.
Paycare, the 140-year-old, Wolverhampton based not for profit health care cash plan and wellbeing training provider, will support next month's event which sees Chambers of Commerce from across the Midlands region join forces to raise the profile of thousands of businesses.
Paycare's Commercial Director, Anthony Burns, said the team was thrilled to be supporting such a fantastic event.
"As Patrons of the Black Country Chamber, we wanted to support them and our fellow Patrons and members during the Virtual Business Expo.
"Employee wellbeing has become even more of a crucial focus for organisations during the past year, so we want to be able to support those attending the Expo as much as we can.
"It's been an incredibly tough year for all West Midlands businesses, so many are looking at impactive wellbeing perks and policies they can introduce to celebrate, reward and retain their staff - as well as attracting new talent as they begin to look beyond the pandemic and consider future plans."
Meanwhile supporting businesses throughout Covid-19 has been the top priority for every Chamber of Commerce and the West Midlands Virtual Business Expo, which kicks off in March 22nd – 26th, will provide the ultimate event for firms to network, make new connections and grow, as the business world looks to future recovery in post pandemic times.
The 'West Midlands Business Expo' will see the collective efforts of Chambers across the Black Country, Coventry & Warwickshire, Herefordshire & Worcestershire, Shropshire and Staffordshire, with businesses given the opportunity to exhibit at the Virtual Expo, alongside a packed agenda of engaging business focused events.
The Expo comes at the end of a third national lockdown for the country in which many firms have continued to struggle to stay afloat, despite a range of financial support measures put in place by the UK government.
Over five days, the Virtual Expo is expected to attract thousands of visitors from across the region with exhibitors manning their virtual stands to showcase their products and services, whilst being able to respond online to new customer enquiries.
A range of informative business events will also be delivered during the week with each day having a local flavour, demonstrating the unique strengths & opportunities across the five West Midlands areas.
Chambers of Commerce across the UK have been at the forefront of supporting & advising firms through the COVID-19 pandemic and helping them to understand the latest developments, as well as acting as 'the voice' of their members to local, regional and national government.
Corin Crane, Black Country Chamber CEO said, "As a region, the Midlands has a wealth of fantastic businesses that are at the forefront of their respective industries and sectors and there has never been a more important time for Chambers and our businesses to connect and collaborate.
"We are at the very heart of our local business communities, and it is time to start shouting about the innovative work that is taking place, working together to promote our region giving vital business support and a platform to shine is more important than ever now as businesses face the biggest economic downturn this country has ever experienced.
For more information on the West Midlands Business Week, or to book a stand, please call Alex Bamford on 07976 902118 - email alexbamford@blackcountrychamber.co.uk
or visit https://www.blackcountrychamber.co.uk/events/22032021/west-midlands-business-expo-standard-stand/