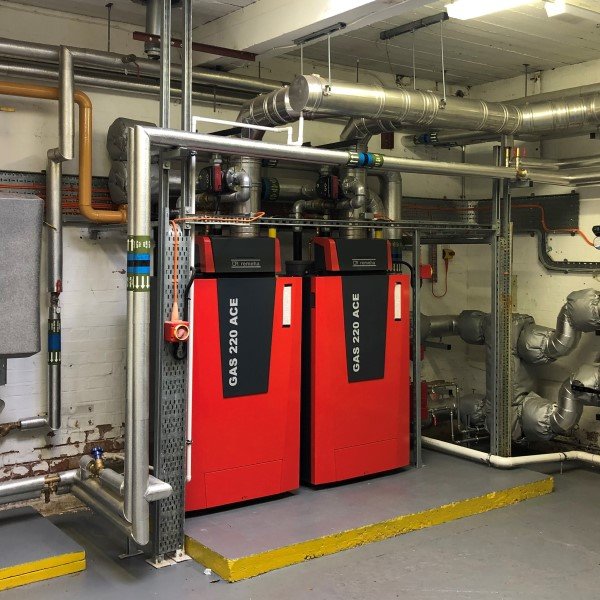 Heating specialists Lord Combustion Services go top of the class with school refurb
14 Apr 2021
Published in: Member News
---
When an infant and early years school was looking for a partner to refurbish their heating and hot water system, Lord Combustion Services proved to be top of the class.
---
When Streetsbrook Infant & Early Years Academy in Solihull were looking for a partner to refurbish their heating and hot water system, Lord Combustion Services proved to be top of the class.
With 230 pupils aged three to seven, along with a private childcare provision, accompanying staff and a swimming pool all requiring heating and access to hot water, Streetsbrook needed specialist engineering expertise to deliver the project around their timetable and to a high standard of work.
Oldbury-based Lord Combustion Services were enlisted to introduce a modern, efficient heating system to bring the site up to date.
With the work conducted during school holidays to fit in around term-time usage, Lord delivered a successful installation which gives greater control and zonal optimisation.
From an initial review of their requirements and the existing installation, Lord provided a comprehensive design for the school which incorporated heating and hot water systems with improved energy efficiency and reliability as well as improved output enabling comfort levels to be achieved via upgraded heat emitters.
The end set-up had a modern control by web-based systems with energy efficient software strategies such as weather compensation and optimisation, controlling the school's main and sub plant rooms and further complemented by user control within individual teaching areas.
Lord also delivered user friendly controls and accompanying graphics enabling the layout and operation of the system to be easily understood and the capacity to plan individual events such as parent evenings and school plays, setting levels for individual zones up to months in advance.
With zoning of the distribution pipework to enable individual time and temperature control of zones according to layout and usage requirements, the new system separated the main school from the childcare provision, main hall and the offices.
All the works to teaching areas, offices and corridors within the main school building were undertaken by Lord Combustion Services during periods of school holidays in 2020.
Works were completed prior to re-occupancy, including the decoration works and replacement of floor coverings where required.
Louise Minter, Headteacher at Streetsbrook was impressed by the results. She said: "This project was vital because the old heating system was becoming unreliable and did not give us the flexibility and efficiency we needed. Previously the whole school has had to be heated during the holidays even though Childcare were only occupying a small part of the building.
"Since the new heating system has been installed, we are now able to zone the building which will result in energy saving costs. In working with Lord Combustion Services, we benefitted from a high-quality service throughout.
"We were pleased with the way they conducted the initial assessment through to the completion of the project. Being able to carry out the key work during school holidays was helpful to us, but the most important aspect was the quality of the work.
"Lord Combustion Services provided us with a modern system which meets our brief and gives us modern systems to control the heating and hot water throughout the school. On that basis, we would recommend Lord Combustion Services for a school heating and safety project."
Lord Combustion Services Managing Director Stuart Smith said: "Working to Streetsbrook's requirements, we were pleased to deliver a system which brings their heating and hot water up to date and allows them to benefit from greater control.
"With schools and education sites, we fully recognise that value for money is important not just for the installation but for the ongoing efficiency levels. The Covid-19 pandemic has shown the importance of hot water, so we are pleased that pupils and staff are seeing the benefit. The boilers and hot water system will continue to bring benefits to Streetsbrook for years to come."
Technical specification
Boilers: Manufacturer: Remeha; Model: Gas 220 ACE; Detail: Condensing, modulating boilers, total max output 400kW
Hot water generation: Manufacturer: Mikrofill; Model: Extreme; Details: Stainless steel DHW cylinder complete with integral plate heat exchanger unit
Pumps: Manufacturer: Lowara; Details: Integral Variable Speed Drives
Pressurisation: Manufacturer: Mikrofill; Model: EFD pressurisation unit
Heat emitters: Manufacturer: Biddle; Model: Forceflow
For full details on Lord Combustion Services's work at Streetsbrook, go to: https://www.lordcombustion.co.uk/case-study-streetsbrook-infant-early-years-academy/

Submitted by Chris from Lord Combustion Services Limited