Help To Grow Management programme
15 Dec 2021
Published in: Member News
---
Boost your business performance, resilience and long-term growth
---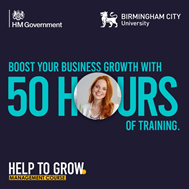 Boost your business performance, resilience and long-term growth Help to Grow Management is a national government-backed programme offered at Birmingham City Business School which supports senior managers of small and medium-sized organisations with their long-term business success and growth. The 12-week programme is 90% funded by the government.
Benefits to your business include: Enhance your management and strategic capabilities Produce a growth plan for your business Build resilience to future shocks Learn how to innovate in your business Adopt digital technologies to boost productivity and operational agility
Develop your value proposition and reach into growth markets Improve employee engagement and responsible business practices Also included is 10 hours of individual business mentoring with business experts, full access to all course materials through a virtual learning environment and access to CMI membership.
To join Help to Grow: Management, your business must:
Be a Small or Medium-sized Enterprise (SME) based in the United Kingdom.
From any business sector, employing between 5 and 249 people Have been operational for at least one year
You must be a decision-maker or member of senior management
Not be a charity Government funding covers the cost of participating on this programme with just a 10% contribution of £750 from businesses.
We are currently taking registrations for Cohort 3 of this programme starting in January 2022.
We are also taking in registrations for Cohort 4 which starts in March 2022.
You can register here : https://smallbusinesscharter.org/h2gmcourse/birmingham-wm-cohort-3/
https://smallbusinesscharter.org/h2gmcourse/birmingham-city-wm-cohort-4/
Here's what Peter Davies, of James Lister and Sons Limited, a participant from our previous cohort, has to say to about the programme:
"Despite my initial scepticism as to whether I would gain anything from Help to Grow Management, both because I already had reasonable experience of business management and because it was being presented by "academics", I can honestly say that the course is of immense benefit. My worries that it would be too heavy on theory were totally unfounded – yes, of course, some of that is explained, but it is done in such a practical way, linked to real life business examples, and to our own situations, that it truly becomes useful. To get the full benefit you do need to be sure that you can commit a few hours each week for the programme sessions themselves, applying the ideas to your own business, and then attending the peer group discussions, but if you do that it is hard to imagine that you will not find some real opportunities and ways to grow your company. It is comforting to know that you are not alone in tackling the challenge of finding ways forward! So far, everyone who has presented to, or worked with us, on the course have had real-life business experience themselves and have some practical understanding of many of the issues that most of us are facing."
"I would strongly recommend this programme to anyone who is trying to grow their business."
Peter Davies James Lister and Sons Limited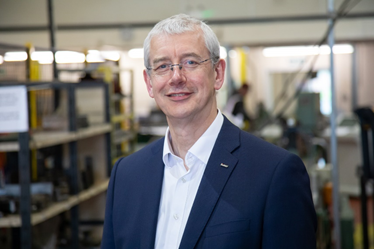 Do contact us for further details don't miss this excellent opportunity to register for this programme and boost your business growth in 2022
jill.middleton@bcu.ac.uk
BCBS Business Services - bcbsbusiness.services@bcu.ac.uk

Submitted by Jill from Birmingham City University