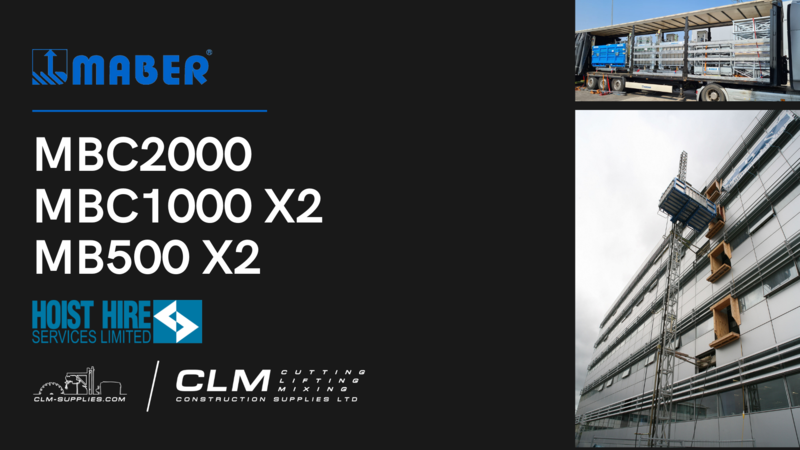 Hoist Hire Services invests in MABER fleet upgrade
06 Apr 2021
Published in: Member News
---
Black Country based supplier makes big deal with hire industry leader
---
Hoist Hire Services, with branches in Bristol, Devon and Birmingham, have invested a substantial sum in new MABER Rack and Pinion Hoist upgrades.
The upgrade includes 5 new rack and pinion hoists consisting of an MBC 2000 Transport Platform, two MBC 1000 Transport Platforms and two MB500 Goods Only Hoists which are perfect for large outdoor projects and more confined projects respectively.
"Its always a pleasure to deal with Hoist Hire, an Industry Leading company. We have been dealing with each other for many years, it's really nice to see the delivery of a fleet of new machines in the yard ready for work." Greg Dent, MABER hoist division leader at CLM Construction Supplies.
"We were delighted to receive our 5 brand new Maber Hoists and accompanying components recently. We can't thank CLM and Maber enough for their excellent service.
Since January, Brexit has had a dramatic effect on the importation of goods from Europe, but dealing with CLM and Maber, you would not know it. We have been particularly pleased with not only the supply of Hoists, but also the technical support provided by CLM Construction Supplies Ltd & as such we value our long-standing trading relationship with them very highly." Chris Douce, Technical and Compliance Manager, Hoist Hire Services.
Submitted by Connor from CLM Construction Supplies Limited