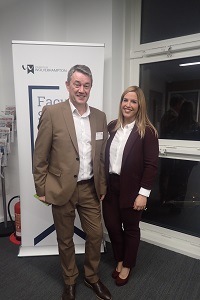 Honour for Volunteering Research Project
04 Jan 2018
Published in: The Chamber Patron Group
---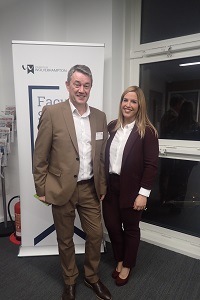 A University of Wolverhampton graduate who helped transform the way a local charity engages with volunteers has been honoured for her work.
Marta Rios received the Chartered Management Institute (CMI) Rosebowl Award 2017 for the best Masters' in Business Administration (MBA) dissertation of the year.
Marta, from Wolverhampton, carried out research to enable The Haven Wolverhampton to develop a new volunteer programme.
The scheme focuses on meaningful experiences for volunteers, improving their skills and employability through on-the-job learning and ongoing support and recognition. Earlier this year the Haven won the prestigious Queen's Award for Voluntary Service.
---
The 30-year-old said: "Winning the CMI Rosebowl Award 2017 for the best MBA dissertation of the year has meant a lot in terms of personal and professional development and I am extremely honoured. I feel flattered that all the hard work and hours of research during the last two years has been recognised.
"Studying an MBA at the University of Wolverhampton has been one of the best decisions I have made in my life. It has been a very enlightening process in my career but it has also been a major challenge, having to balance the demands of academic research with a full-time employment, language barriers as I am originally from Spain, family life and other commitments. However, I couldn't be more grateful for all the support and encouragement that I have received from my work-colleagues, family, friends and the University along the way."
Gloria Pearce, from The Haven Wolverhampton, said: "We would like to congratulate Marta for a well-deserved award and recognition of her outstanding work. Marta is a great envoy for promoting the work of The Haven regarding violence against women and girls, and this award has demonstrated Marta's leadership qualities and her ability to harness the great learning opportunities available at The Haven and apply it to all the volunteers she supports so they have a positive learning experience."
Mark Price Principal Lecturer for Postgraduate Student Experience and part of the awarding panel added: "Marta's presentation stood out because of her passion to create change within her workplace. Through her efforts, Haven has been able to improve the retention, engagement retaining and funding of volunteers. She has been able to create structures and processes which has both a short term and a long term beneficial impact on the Haven's activities. She was a well-motivated and able member of the MBA cohort and we are pleased that she has used the course to develop herself and her colleagues."
Marta's dissertation is titled "the New World of Engaging Volunteers and Volunteering Leadership'. The research aims to provide key stakeholders such as policy makers, volunteer centres and researchers with an innovative and strategic model which supports non-profit organisations to enhance their current volunteer programmes and services. The model aims to help non-profit leaders structure the way they work with volunteers and help them create an experience that it is meaningful for volunteers, engages them and demonstrates a great social impact.
For more information about the University of Wolverhampton Business School, visit: www.wlv.ac.uk/foss. Further information about the MBA is available: http://courses.wlv.ac.uk/Course.asp?menu=1&code=BU008P01UVD