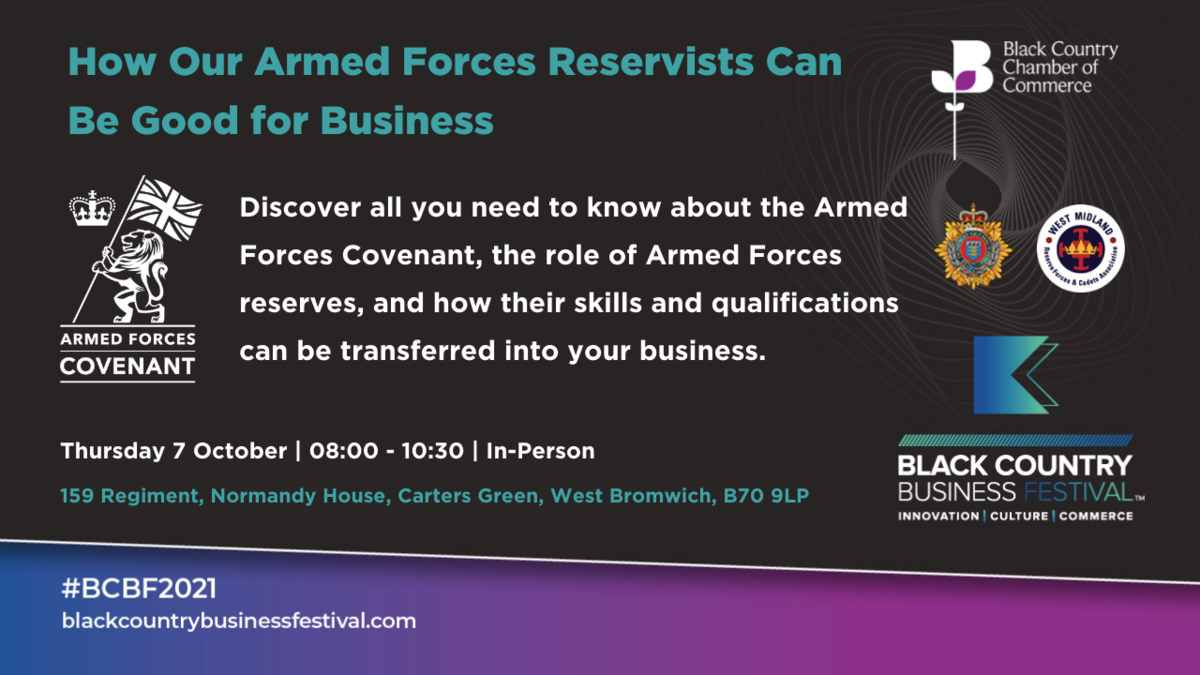 How Forces Friendly Is Your Business?
23 Sep 2021
Published in: Black Country Chamber of Commerce News
---
Event Announced To Highlight Benefits of Recruiting Reservists
---
How Forces Friendly Is Your Business?
Event Announced To Highlight Benefits of Recruiting Reservists
This year's Black Country Business Festival kicks off on Monday 4th October and offers a host of over 70 free events, many organised by the Black Country Chamber of Commerce.
From 4th to 15th October, the Black Country Chamber, along with companies and organisations from across the Black Country, will be running events during the fourth annual Business Festival, aiming to help and inspire other businesses as the economy kick-starts again.
As part of the Festival, the Chamber's Armed Forces champion, Sarah Walker who heads up the Chamber Military Network and Unsung Hero initiatives, is inviting businesses to find out more about The Armed Forces Covenant (AFC), which allows companies to demonstrate support for the Armed Forces Community.
The event, 'How our Armed Forces Reservists Can Be Good for Business', will run from 8am until 10.30am on Thursday 7th October at the 159 REGIMENT, Carters Green in West Bromwich, where attendees will learn about the role of the country's Armed Forces Reserves and how their skills and qualifications can be transferred into business.
During the morning, there will be the chance to hear from Captain Andy Johnstone about the role of the Army Reserves 159 Regiment and listen to their experience of working full time whilst being a valued Reservist.
Cpt Andy Johnstone said, "We at 237Sqn are proud of our local identity. Working in collaboration with employers is a priority for us and we look forward to welcoming many businesses on the day."
Those attending the event will come away with a much better understanding of the process of employing Reservists and also hear more about the Employer Recognition Scheme, which publicly recognises employers' efforts to support the Defence and the Armed Forces Community.
With over 7,000 signatories already from businesses, charities, communities and local authorities across the UK, the Armed Forces Covenant contributes real value to a business and means many across the country are already Forces Friendly.
The Black Country Chamber, a champion for the AFC, were themselves proud to receive the Defence Employer Recognition GOLD Award in 2020, a testimony to the team's endeavours over the years to engage and ensure the profile of the military community is raised at the highest levels.
To find out more and book your FREE place at the event: https://bcbf-2021.ticketleap.com/how-our-armed-forces-reservists-can-be-good-for-business/
-Ends-
Notes:
The 2021 BCBF is partnered by Talbots Law, Dudley Business First and the Black Country Chamber of Commerce. Sponsors are Thomas Dudley, Casino 36, Sandwell Council, Walsall Council and Sandwell Business Ambassadors. Media Partners are: Elonex, Business Works, Prosper Magazine and Metro.