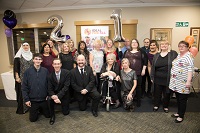 Ideal for All Wishes to Thank Everyone for Making 21st Anniversary Celebrations a Success!
02 Jan 2018
Published in: Member News
---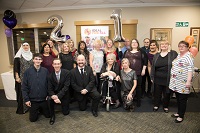 Last week local user-led Charity Ideal for All celebrated a milestone birthday and marked UN International Day of Persons with Disabilities. The event saw volunteers, members and trustees coming together with local business and partner organisations to share stories and memories of their inspiring joint achievements in Sandwell and the West Midlands.
The organisation was delighted that their Patron "Blind Dave Heely' made it back from the gruelling Great Ethiopian Run just in time to celebrate alongside everyone, tweeting: "Back home safe and sound and attending Ideal for All's 21st anniversary. Fabulous night well done all" (@blinddaveheeley).

---
The spectacular event, held at the prestigious West Bromwich Albion grounds, showcased the local support offered by Ideal for All over the past 21 years. The evening celebrations were topped off with live performances, music and dancing from Eternal Taal, Crash and the Surprise Singers.
Khatija Patel, CEO of Ideal for All, said: "A fabulous evening with wonderful people, so many fantastic memories and stories of positive change. A big thank you to everyone for joining us and supporting the Charity over the past 21 years. We are looking forward to the next milestone"
Carol Goff, Chair of Ideal for All, further added: "Such an amazing event. It was lovely to see everyone who has been part of our journey so far. We're so proud to share in their achievements. Thank you all!"
For more information and for photos please visit www.idealforall.co.uk.