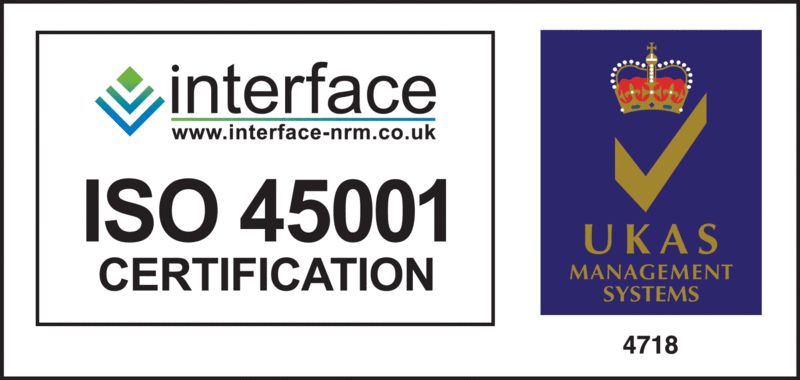 Interface NRM are now able to offer UKAS ISO 45001:2018 Certification
04 Jun 2019
Published in: Member News
---
We are pleased to announce that Interface NRM are able to offer ISO 45001 Certification.
---
Interface NRM are now able to offer UKAS ISO 45001:2018 Certification
We are very pleased to announce UKAS have successfully completed their assessment activities, and Interface NRM are now able to offer UKAS ISO 45001:2018 Certification.
What is ISO 45001?
Did you know that over 7600 people die each day from work-related accidents or diseases?
ISO 45001 is the standard for Occupational Health and Safety. It sets out the minimum standard of practice to protect employees worldwide.
It provides a framework to increase safety, reduce workplace risks and also enhance health and well-being at work.
This also enables organisations to proactively improve their Occupational Health and Safety performance.
But I already have OHSAS 18001.
Don't worry, although ISO 45001 is a completely different standard you will already have a lot of necessary systems in place.
OHSAS 18001 is currently in a 3 year transition period. Interface NRM will walk you through the process of transitioning over to ISO 45001 as seamlessly as possible.
How to obtain UKAS ISO 45001:2018 Certification
If you would be interested in obtaining ISO 45001 Certification for your organisation then we would love to hear from you.
Why not give our team a call today on 01952 288325 to discuss in more detail.
Alternatively you can email us on info@interface-nrm.co.uk
Submitted by Amy from Interface-NRM Ltd
Comments
No comments have been submitted yet.