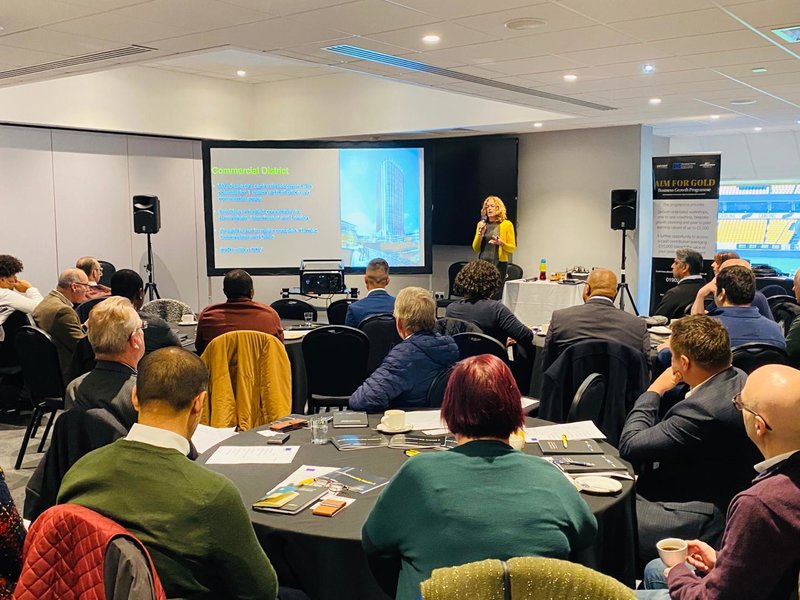 IT IS GOOD TO AIM FOR GOLD
10 Dec 2019
Published in: Member News
---
The City of Wolverhampton Council are looking for eligible SMEs for the next cohort of the AIM for GOLD Business Growth and Grant Programme
---
The City of Wolverhampton Council are setting the pace with the Black Country ERDF part-funded AIM FOR GOLD Business Growth and Grant programme. In the first 6 months, the Council's Business Development Team has supported 44 local businesses with Business Reviews, 30 of which had completed Growth Plans and 16 secured grant support.
In fact, over £275,000 of financial assistance was secured with the help of the Business Development Team, underpinning just over £1M of business investment in the City towards a range items such as: New CNC Lathes; Hybrid Digital Printing Machine; Venue Finding IT system; Warehouse Racking and pipework; Crane, steelwork, and civils; Robotic cameras and video production items; VR Head set and PC's; Industrial Embroidery Machine; and a Steel Splitter and Cutter. The investment has created over 50 new local job opportunities.

A celebration event that was attended100 delegates, a mix of those from the first cohort, and those looking to join the second cohort in February, attended an information Workshop at the end of 2019. The success of cohort one, as well as details of how the Programme works, were shared. The following video was also shown which both explains the Programme and encapsulates its success to date.

https://vimeo.com/productionstm/review/376793619/130ef13e60

The City of Wolverhampton Council are now looking to recruit a further 40 plus businesses for the second cohort of the Programme which will begin at the end of this month (January 2020) with an OnBoarding Day for businesses at The Molineux. If anyone knows any business that may be interested please email mailto:business.development@wolverhampton.gov.uk or visit www.investwolverhampton.com/aimforgold/
Submitted by Hannington from City of Wolverhampton Council