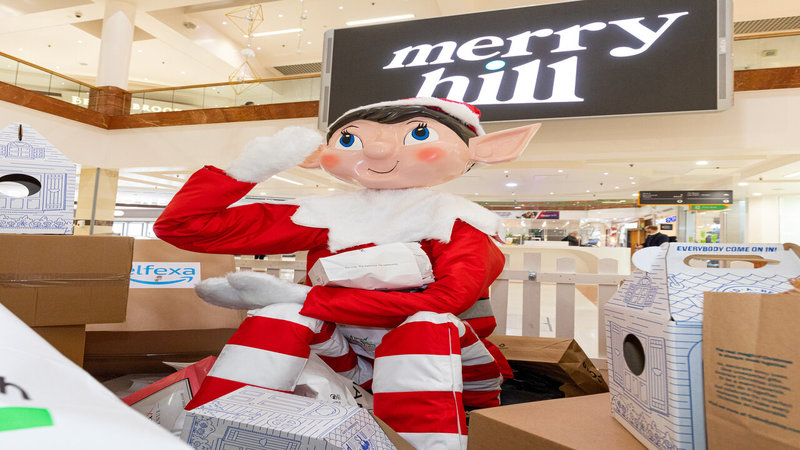 Join the festive spirit with Merry Hill's Elf on the Shelf
01 Dec 2021
Published in: Member News
---
Join the festive spirit with Merry Hill's Elf on the Shelf
---
As Christmas approaches, Merry Hill shoppers can kickstart the festive season by paying a visit to the centre's very own 'Elf on the Shelf' throughout December.
Making a debut appearance this year, Merry the Elf will be spotted at different locations across the centre, where families will be challenged to hunt him down and capture selfies with him.
He'll be getting up to all kinds of mischief over the festive season, from plundering his favourite toy stores to adding his own festive twist to the centres' Christmas decorations – see if you can catch him red handed.
Visitors can even get in on the action with a free app that can now be downloaded in the Apple and Google app stores – just search 'Merry Hill Elf'.
Using the apps augmented reality, friends and family can battle the Merry Hill elves in a virtual snowball fight at seven different locations around the centre - with a £100 prize up for grabs for the highest score.
Visitors can also enjoy a Christmas Wonderland where Santa and his elves will be hosting a meet and greet in their Christmas grotto, located at Engine Lane next to the centre until 9th January.
The Christmas Wonderland includes a series of fun fair rides for all – including dodgems, teacups and a magical ice rink. Traditional street food vendors are serving up bratwurst sausages and sweet treats, with a bar available serving mulled wine, beer, hot chocolate and more.
Shoppers can also immerse themselves in festive decorations at Merry Hill's two Christmas pop-up shops, 'Christmas House' and 'Christmas Shop'. Located on the upper mall near Next, and on the lower mall opposite Waterstones respectively. From singing Santa's to an array of seasonal home décor the two outfits promise you everything you could possibly need for the ultimate celebration.
Jonathan Poole, Centre Manager at Merry Hill said: "The festive period is our busiest and most exciting period for both shoppers and the team alike. We have a host of fun, family-friendly activities for all ages throughout December, and we look forward to finally starting the Christmas countdown at the centre.
"While there's a string of fun events for kids, parents can also get involved in the festive spirit – with plenty of rides and activities for all ages, as well as a range of festive food and drink options. We're looking forward to bringing some festive cheer to our shoppers and the local community this December."

Submitted by Sam from Merry Hill