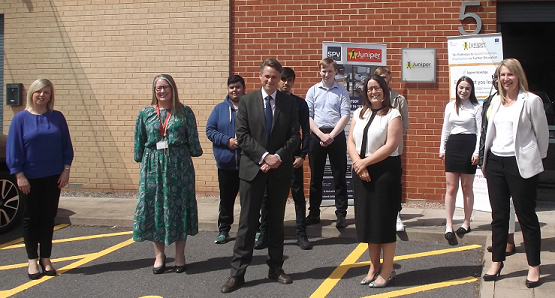 Juniper Training welcomes Gavin Williamson, MP for South Staffordshire and Education Secretary.
08 Jun 2021
Published in: Member News
---
Juniper Training staff and students get to talk to Gavin Williamson
---
On Friday 4th June, Juniper were pleased to welcome Gavin Williamson to their head office at Hilton Cross Business Park, Wolverhampton where he met with members of the team, current students and students who have further progressed into apprenticeships and employment.
Lesley Holland, Managing Director of Juniper Training said "this was a great opportunity for us to provide an insight as to how our students are trained, developed, supported and progressed onto opportunities such as apprenticeships, further education or sustained employment. The pandemic has been a challenging time for the education sector but our fantastic team have risen to the challenge with creative training initiatives to keep students motivated and on progress with their studies, whilst maintaining their mental well-being".
Students also had the opportunity to share their experiences of studying at Juniper Training and what their plans are moving forward.
Ben, one of the students who progressed from our Building Futures programme onto a Roofing apprenticeship with a local employer said "he was really down to earth, interested in what we were doing and wanted to hear about the support we have been provided at Juniper, especially with achieving our maths and English and gaining an apprenticeship".
Favour, who is currently undertaking a childcare study programme told Gavin that "Juniper have helped me in getting a work placement in a local nursery school and gaining maths and English, despite my disability. This has encouraged me to want to get a job in a special school in the future, working with pupils with disabilities".
Other students went on to say how studying at Juniper Training has helped to build their confidence levels and increase their motivation, and discussed various topical issues with Gavin during his visit.
Juniper, who support in excess of 2000 students per year from across their 13 centres, offer study programmes and traineeships, to young people and apprenticeships to people of all ages, in sectors such as childcare, customer service, recruitment, management, warehousing and roofing.
Any business currently thinking of taking on an apprentice, or willing to consider taking students on work experience placements, please contact enquiries@junipertraining.co.uk or call 01902 864194.
There are currently excellent financial incentives available to employers and a member of the team would be delighted to discuss this with employers, as well as the bespoke recruitment service we can offer.
To find out more about Juniper please visit www.junipertraining.co.uk

Submitted by Lisa from Juniper Training Ltd