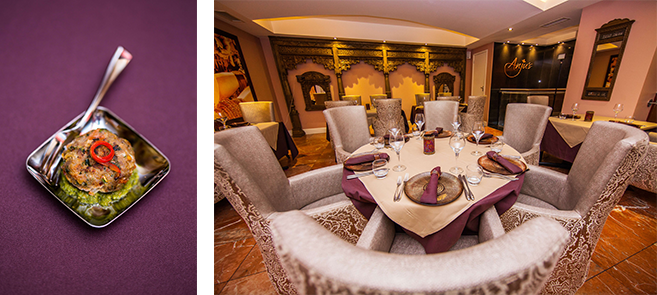 Latest Research Reveals Black Country's Favourite Indian Dish
26 Jul 2019
Published in: Member News
---
Latest Research Reveals Black Country's Favourite Indian Dish
---
Jalfrezi is crowned the Black Country's new favourite Indian dish
Bucking a national trend which has seen tikka masala and korma variously take the top spot in national polls, jalfrezi has been declared the region's favourite curry (15%), closely followed by a traditional Black Country balti (14%).
The ideal Black Country Indian meal consists of a sheek kebab to start, with 21% of the vote, jalfrezi main at 15%, a garlic naan on the side 18% and a pint of lager 40%.
Just under half of respondents (43%) declared that Indian cuisine was their favourite type of food.
Commissioned by top-rated Indian restaurant Anju's at the Ramada Resort Park Hall Hotel in Wolverhampton, the research reveals that it's the range of flavours that 27% of diners like most about Indian restaurants.
A generous 71% prefer to share with the people they're with rather than stick to their own dish.
Commenting on the results, Rajesh Kumar, head chef at Anju's, said: "It's fantastic to see such a wide variety of responses. We all have our favourite dishes and Jalfrezi with its careful mix of spices and ingredients is a worthy winner.
"Choice and variety remains king however and it's heartening to see that a huge 3 in 4 West Midlands diners opt to share with the rest of their table.
"In our latest menu we'll be offering even more choice for diners with a unique take on some of the Black Country's favourite dishes, combining inspiration from both the Punjab and Mumbai.
The West Midlands continues to lead the way in world-class Indian food and it's great to see that diners are increasingly keen to try new flavours."
The updated Anju's menu will be available to diners very soon, to find out more visit www.bit.ly/AnjusRestaurant
The Top Ten Indian Main Dishes
1. Jalfrezi 2. Balti 3. Tikka Masala 4. Rogan Josh 5. Biryani 6. Murg Makhani (Butter Chicken) 7. Tikka 8. Pathia 9. Tandoori 10. Bhuna
The Top Five Indian Sides
1. Garlic Naan 2. Pilau Rice 3. Masala Chips 4. Keema Naan 5. Peshwari Naan
The Top Five Indian
Starters 1. Sheek Kebab 2. Chicken Tikka 3. Lamb Chops 4. Chaat 5. Onion Bhaji

Comments
No comments have been submitted yet.