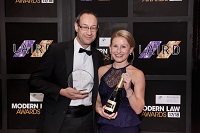 Law Firm Picks Up Another Accolade
14 Feb 2018
Published in: Member News
---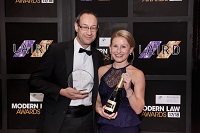 A Midlands law firm has won a national award for its outstanding commitment to training.
FBC Manby Bowdler was voted as the winner of the category, which recognised a business that goes above and beyond the usual remit for staff development, at the Modern Law Awards 2017/18.
The firm, which employs more than 200 people at offices in Wolverhampton, Shrewsbury, Telford and Bridgnorth, was named worthy winners as a result of its unique approach to learning and development across a range of methods including coaching, mentoring, and formal training for staff at all levels.
---
The Modern Law award is the latest in a string of awards picked up by FBC Manby Bowdler for its commitment to its employees.
It was given a 2-star rating by staff in its latest Best Companies assessment, in which it was labelled "outstanding', and voted independently as the Best Place to work in the Shropshire Star's 2017 Excellence in Business Awards.
The firm was named Best Employer at the recent British Excellence in Sales Management Awards (BESMAs) and scooped the Black Country Chamber of Commerce Excellence in Customer Service in 2016. It was also crowned as the Wolverhampton Law Society's Professional Services Firm of the Year that year.
The Modern Law Awards celebrates and identifies sparkling talent and success in entrepreneurship, market development, business management and best practice in the modern legal services arena.
Managing Partner Kim Carr said the award demonstrated that the firm's strategy to develop a strong and sustainable workforce was achieving its aim.
"We recognise that our people are our biggest asset and, by committing to a defined training pathway for their personal development, we are cultivating a modern law firm with a clear vision that can deliver the stellar service we are known for.
"We have developed bespoke learning opportunities and believe our unique approach is, in part, what helps us attract top talent, results in our staff rating us as a 2* Best Company as well as being voted as the Best Place To Work in Shropshire.
"We pride ourselves on having an amazing team and have worked hard to create an environment that nurtures, supports and rewards the best people."