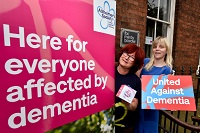 Law Firm Takes Action to Tackle Dementia
15 May 2018
Published in: Member News
---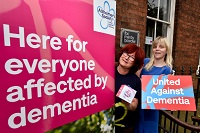 A free advice session to encourage more people to support those living with dementia will be held in Wolverhampton during this month's Dementia Action Week.
The Dementia Friends session at the Grand Theatre on May 22 will be run by Michelle Monnes Thomas from law firm FBC Manby Bowdler, who is one of the Alzheimer's Society's volunteer Dementia Champions along with Lee Allen from the Alzheimer's Society.
---
The Dementia Friends programme is the biggest ever initiative to change people's perceptions of dementia. It aims to transform the way the nation thinks, talks and acts about the condition.
During the free session from 2.15pm to 3.30pm, Michelle will speak more about dementia and what people can do to help create dementia friendly communities.
The Alzheimer's Society is one of FBC Manby Bowdler's chosen charity partners. Staff will be taking part in other activities during Dementia Action Week including a special workshop at its Wolverhampton office on May 24 to create a number of fiddle quilts that are designed to soothe and stimulate people living with dementia.
The small quilts incorporate fabrics with different textures and pictures with additional pockets, flaps, and zips which are ideal for people with dementia who have restless hands and like repetitive activities.
Michelle said: "With an ageing population, dementia is a growing problem that currently affects around 850,000 people in England. The Dementia Friends session is a brief insight into how people can make a difference and help and support those people living with the condition.
"FBC Manby Bowdler is committed to tackling the stigma and lack of understanding around dementia and are proud to be part of this initiative. We've recently officially been labelled as a dementia friendly firm in recognition of our work with the Dementia Action Alliance and we are looking forward to taking part in some hands-on crafts during Dementia Action Week."
To sign up for the free Dementia Friends session, go to https://bit.ly/2re1FWo or www.dementiafriends.org.uk.
Comments
No comments have been submitted yet.