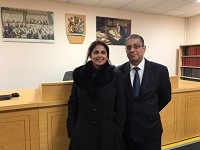 Leading Lawyer Shares Expertise with Next Generation
13 Feb 2018
Published in: The Chamber Patron Group
---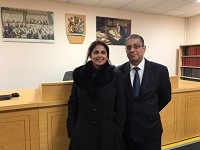 A law graduate from the University of Wolverhampton returned to the classroom to share her expertise with the next generation of lawyers.
Yashmin Mistry is a Partner and Property Practice Group Leader at leading London firm, JPC Law.
Yashmin is a "Recognised Expert' in the prestigious Legal 500 Guide as well as receiving recognition in the 2014 and 2015 "Top 100 Most Influential People in the Residential Sector' property guide.
---
She graduated from the University in 2001 and returned to talk about her career so far and share her tips for success with students recently.
Yashmin discussed not just her route into her chosen area of law, leasehold enfranchisement, but also other routes students may want to follow. She touched on her experiences at the University, but also how it was starting out as a lawyer including her training contract.
Following the Q&A, Yashmin went on a tour of the old and new law buildings at the University and took part in an award ceremony for successful law students.
Yashmin, whose accolades include Solicitor of the Year at The Enfranchisement and Right to Manage Awards in 2014 and 2015, said: "I really enjoyed being back at the University and hope the students enjoyed my insight into the legal world.
"My time at the University of Wolverhampton helped to shape the future for me, it was a stepping stone to where I am today."
Head of the University of Wolverhampton Law School, Sukhninder Panesar, said: "We were delighted to welcome Yashmin back to the University to inspire our students. As a successful alumnus of the Law School, her words offered a real insight into the legal profession and what our graduates can go on to achieve.
For more information about studying law at the University of Wolverhampton, visit: www.wlv.ac.uk/law or visit the next Open Day on Saturday, 17 February 2018: www.wlv.ac.uk/opendays