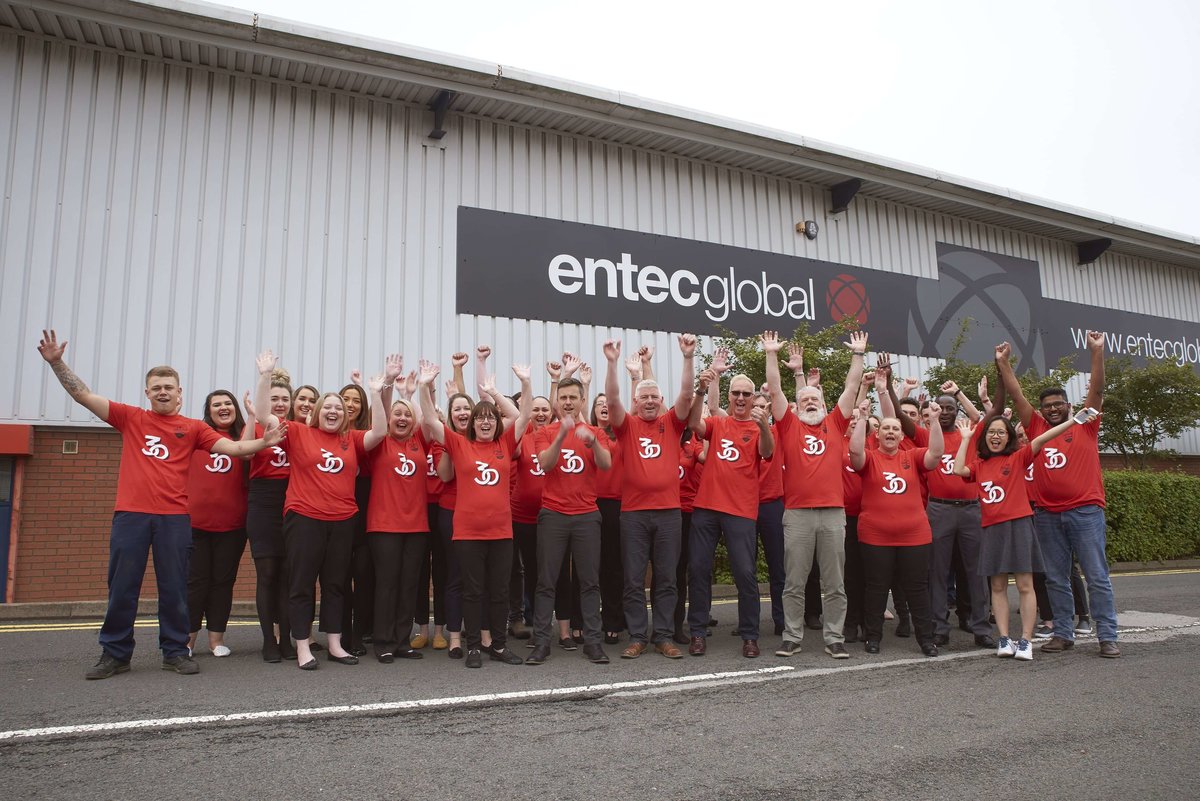 Local firm celebrates 3 decades of success and 300 years of service!
11 Jul 2019
Published in: Member News
---
Local firm Entec International is celebrating its 30th anniversary this year and pays tribute to 300 years of combined service from 20 of the longest serving members of staff.
---
Mike Robinson and Chris Syner, who started the business around Chris' kitchen table in 1989, recall that in the first year of trading the company turned over £27,000 and made a profit of £489. 30 years later, Entec is a fast-growing export business with a multimillion-pound turnover and a footprint on several continents.

The Halesowen based business was originally created from an opportunity to source, procure and consolidate parts for a manufacturing company in the Middle East. Today it provides specialised 3PMRO (3rd party maintenance, repair & operations) services worldwide.
The Entec team manages the daily production and packaging equipment spares need for a range of global brand clients, with manufacturing operations in Africa, the Middle East, and Asia Pacific, ensures their FMCG, Beverage, Mining and Minerals facilities are maintained at best cost and optimal performance.
Following best-ever results for 2018, the first half of 2019 figures indicate another record-breaking year, following large-scale contracts in a new sector requiring the same 3PMRO service Entec delivers to its FMCG clients. This year the company has also increased trade with longstanding customers in the established regions of Africa and the Middle East. According to Mike Robinson, 2020 will bring the Americas into Entec's supply portfolio as an existing client introduces the 3PMRO service to more of their global operations.
"Over the decades we have invested in our ICT and communications technology, recognising that our value proposition needs to extend further each year if we are to stay engaged with global businesses over the long term," he says. "Most of our client agreements renew annually, some are 25 years old and innovation keeps each one of them fresh."
Chris Syner adds, "Our '300' club celebrates the fact that our staff are what makes Entec great. Our clients can call upon a combined 300 years of experience covering a hugely diverse range of technical products, which are being shipped daily along some of the most complex supply chains in the world. In my view, their knowledge, expertise and commitment give Entec a unique advantage as we take on each new challenge and turn it into an opportunity. This is our chance to say thank you to them and to our clients for making our business a success over the last 30 years."
Comments
No comments have been submitted yet.