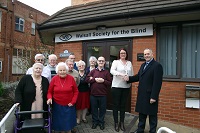 Local Firm Reveal Charity of the Year
01 Mar 2018
Published in: Member News
---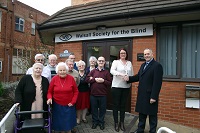 Walsall based leading Law Firm, Enoch Evans LLP have revealed its Charity of the Year for 2018 and opted to keep it local.
Walsall Society for the Blind, neighbours to Enoch Evans LLP on Hatherton Road said they are delighted to have been selected and will now benefit from the fundraising events carried out by Enoch Evans LLP during the year.
---
Amanda Reed, CEO for Walsall Society for the Blind said, "We are all so grateful to Enoch Evans LLP for selecting us as their charity of the year and look forward to assisting them in the many events they have planned to raise money for our charity."
"Walsall Society for the Blind is a local charity that has provided a lifeline to the visually impaired since 1885. Deemed as Walsall's oldest charity, their aim is to provide information, support and friendship to those who suffer from visual impairment."
David Evans, Managing Director at Enoch Evans LLP said, "Charity of the Year is something new that we have decided to start for 2018. We wish to focus our efforts on raising as much as possible and making a difference, the opportunity to do it for a cause so close to ourselves and for the local community makes it all that more, worthwhile."
"We look forward to an exciting year of fundraising and giving something back."
Please contact Enoch Evans LLP on (01922) 720333, ee@enoch-evans.co.uk or visit their website at www.enoch-evans.co.uk for more information. For more information about Walsall Society for the Blind visit www.walsallblind.org.