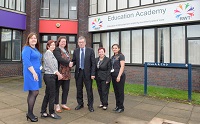 Local Hospital Puts Trust in Degree Apprenticeships
08 Mar 2018
Published in: The Chamber Patron Group
---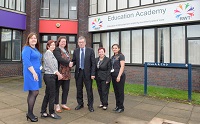 Eleven staff from The Royal Wolverhampton NHS Trust have signed up to study for a Degree Apprenticeship with the University of Wolverhampton Business School.
The staff are currently working at New Cross Hospital based in Wolverhampton in a variety of departments including Facilities, Theatres, Primary Care, Research & Development, Women's & Children's Services, Rehab Ambulatory Care Group and the Patient Information Centre.
---
The Apprentices will be studying for a Chartered Manager Degree Apprenticeship at the University which is designed for professional managers who take lead responsibility for people, projects, operations and/or services to deliver long term organisational success.
The three year part-time course covers all aspects of business, including management, marketing, human resources, finance and operations management. Delivery is by a mixture of face-to-face, distance learning and in-house company mentoring and training support. Learning focuses both on theories and the application of all aspects of management.
Louise Nickell, Head of Education and Training at The Royal Wolverhampton NHS Trust, said: "We value every member of staff no matter what stage they are at during their professional and personal journey. We're pleased and proud of the commitment of eleven of our employees who have signed up to study for these new Degree Apprenticeships.
"The academic costs are covered by government levy funding but, as an organisation, we offer a huge amount of support to staff who have chosen to further their education in this way without compromising our service because return on investment is well known."
Laura Harper, 30 from Oldbury, Vertical Integration Project Manager in the Primary Care Services Directorate, said: "I wouldn't have been able to study for a degree any other way as I couldn't afford the cost of the fees and didn't want to leave work to study full time. I really want to progress in my career to a senior management position but can't do this without a degree and having worked for the NHS for 16 years, I'm really pleased that I can now take my career to the next level."
Employers interested in knowing more about Degree Apprenticeships should contact the Apprentice Hub for more information.