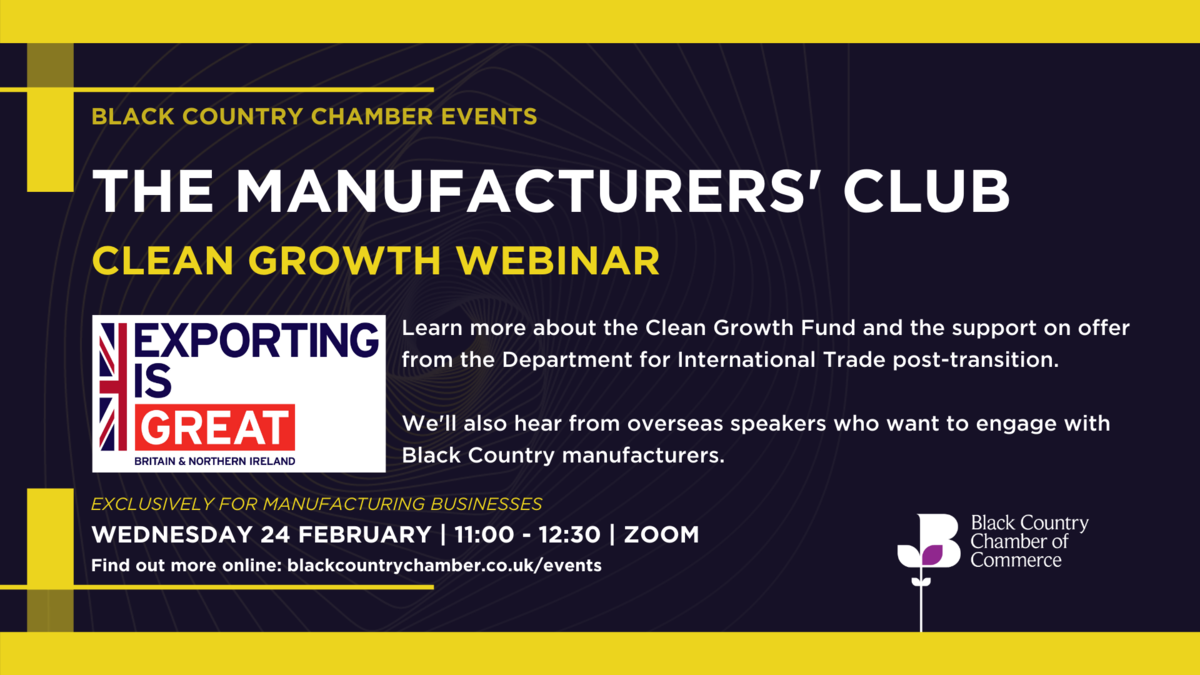 Manufacturing Matters in the Black Country
22 Feb 2021
Published in: Black Country Chamber of Commerce News
---
Manufacturers Club Event Focusses on Clean Growth Agenda
---
Goods manufactured in the Black Country are sold around the globe and the region's historic success in automotive, aerospace, lock making, and saddle making is renowned.

Home to some of the world's best manufacturers the Black Country Chamber of Commerce is now calling on manufacturers from across the area to join them, in a bid to explore opportunities for their pipeline and hear how the Department for International Trade and overseas commercial offices can help local businesses reach new markets.
Following the end of the transition period, and alongside an increased focus on the Clean Growth agenda, the DIT are looking to support Black Country manufacturers as the manufacturing sector remains important to the Black Country region and is a key component of the regional economy.
Kicking off on Wednesday 24th at 11am the Chamber will provide a platform for manufacturers, small, medium or large, who will get the opportunity to hear from overseas speakers keen to engage with Black Country businesses.
There will be the chance to discuss funding opportunities from the Clean Growth Fund and attendees will get to hear about a range of topics and speakers including James Armour (International Cleantech Network); Anders Sloth Nielsen (Copenhagen Capacity) and Mark Chapman (DIT Denmark) who will explore:
• Funding in Clean Growth Sectors
• Overseas Overview and Introduction to DIT Clean Growth Campaign
• Clean Growth in the Black Country
• Clean Growth & Smart Cities
• DIT Services Overview Post Transition
• Introduction to ICN & Denmark Case Studies
The event will also provide a perfect way to gain insights into DIT services, the opportunities available through the Clean Growth agenda and show how the DIT can support Black Country businesses overseas.
FREE for members and non-members with all manufacturing companies welcome.
Book Here: Manufacturers Club Event: DIT - Focusing on Clean Growth - Black Country Chamber of Commerce
For More Information:
If you are interested in learning more about the Clean Growth initiative and the free support DIT can offer your business, you can contact Ian Stevens from DIT on 07593 572 853 or email ian.stevens@mobile.trade.gov.uk