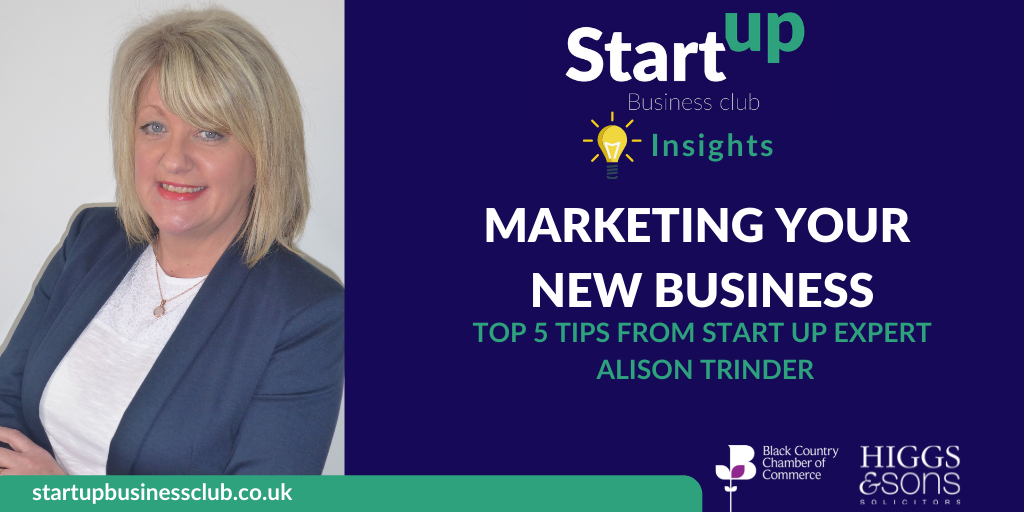 Marketing your small business - Alison's top 5 tips
08 Jun 2021
Published in: Blog
---
It is a highly competitive market out-there and even more so for new business owners who are looking for the best way to market their company on a tight budget
---
Step 1: Know who your ideal customer is
Do your market research. Where are your customers based? Where can you find/ meet them? What are their interests? What challenges do they face? You may then be able to put them into different "target" working groups requiring specific needs.
This will help if you want to use social media to generate more leads. Trying to promote your products and services to everyone will be ineffective – even if you believe everyone can use or benefit from your product/service. Your marketing needs to be tailored to your customer.
Step 2: Understand yourself
Once you know a bit more about your customer and their needs, take time to look at yourself, What is your offer? How can you help your customer with their challenges? what is your USP? Why should someone buy from you? What makes you different to your competitors? Once you have a clear view of this, you can develop your marketing plan and messages you send out of how you can help.
Step 3: Create a clear message
Your business offering needs to be easy for people to understand, just like perfecting your pitch. You should be able to say in around 15 words exactly what your company can do. It opens conversations, then you can elaborate more. So, for me, mine would be "I support new business owners within the Black Country to grow their company and make connections"…. All your communications to your potential clients should include how your business can solve a particular problem, everyone needs help to save time and money, you can then tailor messages to reach your particular group's needs.
Step 4.: Create a marketing plan
Now you know who your audience is and what their challenges are, how you can help them, now, where are you going to find them, where do they hang out?
• Social Media? There are billions of people using Facebook each day, would a Facebook campaign help? LinkedIn helps to raise awareness, Instagram is great for showcasing products & services and then there is Twitter so, monitor what works for you. Can you use an automated system such as canva to help you save time with your posts?
• Commit to a regular networking group?
• Is it worth spending on email campaigns or telemarketing?
• Is it worth outsourcing – leave it to the experts, also save you time to work on other projects?
• Would a local advert in a magazine or book work?
• What would you spend need to be to see a return on investment?
Step 5: Monitor and review
It is important to regularly monitor and review your marketing activities – are they increasing your sales. Review every 3 months or so. Use a CRM system or spreadsheet to monitor outcomes. Continually monitoring and reviewing your marketing will allow you to build on what is working, and what is not, and if it is not stop and try something else!
On a regular basis, I host events and training sessions and provide 1-to-1 business guidance to those looking to take their business to the next level via the Start Up Business Club. With as little as £25 per month, you can be a part of the growing network of powerful and dedicated start ups and gain access to a wide range of business essential savings, promote your company, network and build a relationship and learn how to take your startup to the next level. To learn more, simply get in touch with me via email alisontrinder@blackcountrychamber.co.uk or join us at one of our start-up focused events here.
The Start-Up Business Club is the place to make new connections, learn from experienced professionals and develop the skills and understanding needed to take your new business venture to the next level. The club is sponsored by legal experts, Higgs and Sons Solicitors.