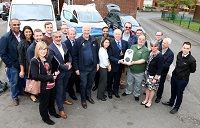 Mayor of Walsall and Local Councillor Visit the Switch to Electric Event
09 May 2018
Published in: Member News
---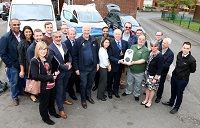 Councillor Marco Longhi, The Mayor of Walsall Metropolitan Council and newly re-elected Councillor Chris Towe for Pheasey Park Farm Ward supported a packed Switch to Electric Event held at the Old Bank Business Centre, Darlaston. Hosted by Tony Jones of AJ Vehicle Solutions, Colleen Jones who ran for office in Darlaston and Jeff Longley, MD of Mr Electric Birmingham, OLEV (Govt. Office for Low Emmission Vehicles) Approved Electric Vehicle Chargepoint supplier.
---
Mayor of Walsall, Marco Longhi commented: "Very very interesting event. I have always been a large supporter of renewables and renewable energy, very conscious of climate change. I believe anything we can do to minimize the impact on our planet can only benefit ourselves and future generations."
Councillor Chris Towe commented: "I feel passionate about cleaner air. I want to encourage people to come to Walsall and give them the opportunity to charge their vehicles. We would prefer to take advantage of OLEV funding whilst available and want to be proactive as opposed to reactive. As a Unitary Authority we are responsible for practically everything apart from the M6."
Part of the Black Country Business Festival, the event was attended by businesses and manufacturers interested in the benefits and availability of electric vehicles, hybrid vehicles and OLEV approved, installed, Homeplace, Workplace Grant Funded and fully funded electric vehicle chargepoints.
Mr Electric Birmingham offer OLEV certified installation in support of the Government's £400m investment to boost the electric car charging infrastructure, to help reduce harmful emissions.
Manufacturers supplied vehicles including the only 3.5 tonne electric vehicle on the market the LDV EV80, and a selection of electric and hybrid vehicles (Renault Zoe EV, Citroen Berlingo EV, Lexus IS, Toyota Prius EV and Hyundai IONIQ) for the event, through companies who work closely with A J Vehicle Solutions.
At the event it was discovered £5,000 funding is available in addition to OLEV funding to SME's within the Black Country through Low Carbon Workspaces in addition to Govt. £4,500 and part OLEV funded and approved Chargepoints,
For more information please visit www.ajvehiclesolutions.co.uk or call 0121 796 1930.