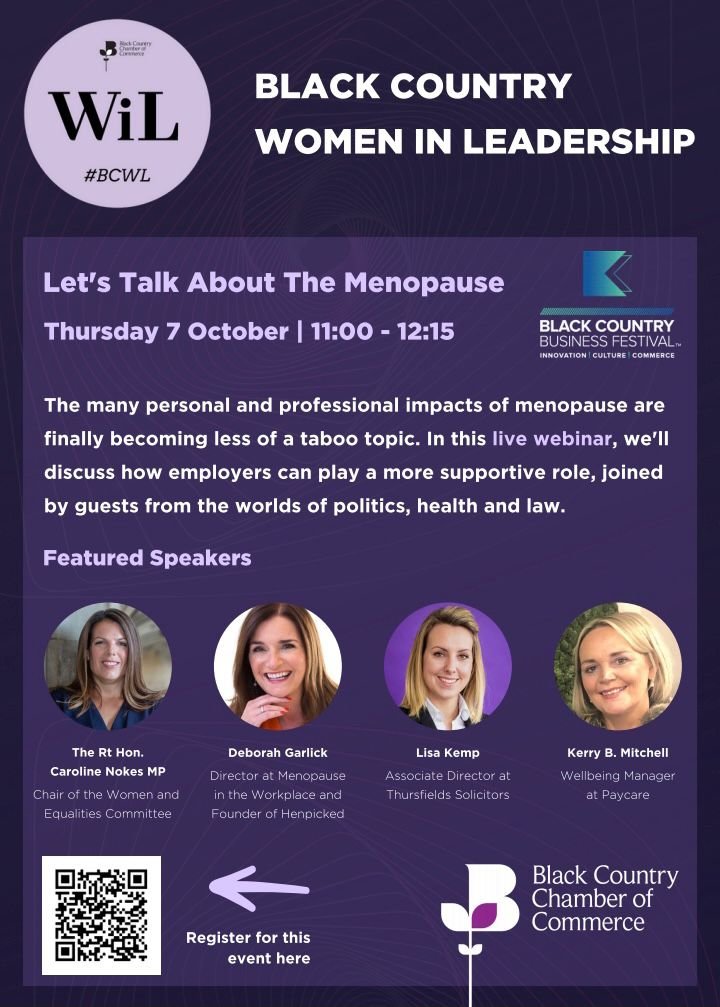 Menopause in the Workplace Event Announced
23 Sep 2021
Published in: Black Country Chamber of Commerce News
---
Menopause in the Workplace Event Announced
---
Menopause in the Workplace Event Announced………
Black Country Chamber of Commerce will be joined by Chair of the Women and Equalities Committee, The RT Hon Caroline Nokes MP
This year's Black Country Business Festival kicks off on Monday 4th October and offers a host of over 70 free events, many organised by the Black Country Chamber of Commerce.
From 4th to 15th October, the Black Country Chamber, along with companies and organisations from across the Black Country, will be running events during the fourth Business Festival, aiming to help and inspire other businesses as the economy kick-starts again.
As part of the Festival, the Chamber's 'Women in Leadership' initiative has announced that it will be running a FREE online event, 'Let's talk About the Menopause', to discuss how some leading employers are already taking action, with menopause policies or guidance, and making the subject a more inclusive conversation by providing information, training and workplace adjustments.
As the biggest growing demographic in the workplace today, representing 50% of the workforce,13 million women in the UK are either peri or post-menopausal, suffering symptoms that can last for many years.
The event, hosted by Chamber CEO, Corin Crane, will take place on Thursday 7th October from 11am, when he will be joined by Chair of the Women and Equalities Committee, The RT Hon Caroline Nokes MP, who will discuss the recently launched 'Menopause and the Workplace Inquiry', alongside Deborah Garlick from Menopause in the Workplace, a leading expert who has collaborated with Government ministers to set up an accreditation programme to help employers with training and education about menopause.
There will be a legal perspective for businesses from Lisa Kemp, Associate Director of Employment & HR Law at Thursfields Solicitors and Kerry Mitchell, from Wolverhampton based Paycare, will discuss the wider impact of mental health in the workplace.
Sarah Thompson, Press and PR for the Black Country Chamber said, "As an ageing population, more women of menopause age are in work than ever before, sadly far too many struggle through the menopause or even give up work and career ambitions with knock-on effects on workplace productivity, the gender pay gap and the gender pension gap.
"There needs to be greater education in this area for both men and women and more awareness and support within the workforce.
"Menopause isn't something just women need to know about, everyone will experience it at some point – some first hand – others through relationships, whether that's with a partner, family member, friend, colleague or employee."
'Let's Talk About the Menopause - Menopause in the Workplace' 7th October 11am.
To book a place on the event, please click on the link: https://bcbf-2021.ticketleap.com/lets-talk-about-the-menopause/
-Ends-
Notes:
The 2021 BCBF is partnered by Talbots Law, Dudley Business First and the Black Country Chamber of Commerce. Sponsors are Thomas Dudley, Casino 36, Sandwell Council, Walsall Council and Sandwell Business Ambassadors. Media Partners are: Elonex, Business Works, Prosper Magazine and Metro.