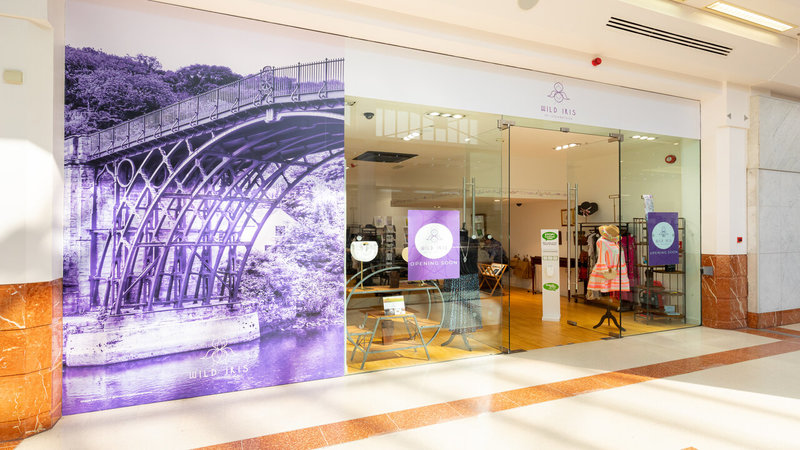 Merry Hill adds to its growing number of independent stores with the arrival of unique award-winning fashion and gift boutique - Wild Iris of Ironbridge
12 Jul 2021
Published in: Member News
---
Merry Hill adds to its growing number of independent stores with the arrival of unique award-winning fashion and gift boutique - Wild Iris of Ironbridge
---
A brand-new award-winning independent ladies' fashion and gift boutique, Wild Iris of Ironbridge, will be opening its doors at The Merry Hill Centre in Dudley on Saturday 10th July 2021.
The store specialises in ladies' clothing, jewellery & accessories, homeware and locally handcrafted gifts and art works. Its owner, Toria Salisbury-Scott, is passionate about sourcing local products wherever possible and is especially committed to showcasing the work of local artists. Wild Iris has also recently won the title of Best Clothing and accessory Retailer of the Year for the Central England region in the prestigious Corporate Live Wire Prestige Awards.
The store (located near Marks and Spencer on the upper mall), is holding a range of special in-store promotions and entertainment for customers on Saturday 10th July as well as a ribbon cutting at 10am to mark its official opening. Offers and activities include:
- The first 100 customers will receive a Wild Iris branded cotton tote bag, stick of rock, £10 off voucher, wish bracelet and a packet of wildflower seeds.
- Customers will also be treated to some live music in the store from award winning Midlands based country music duo, Gasoline & Matches who will also be performing the ribbon cutting to officially mark the store opening at 10am.
- Wild Iris will also be supporting Midlands Air Ambulance and will be handing out leaflets to encourage customers to donate their pre-loved items to help raise much-needed funds for this vital regional charity. People can return their bags of pre-loved items to the store and Wild Iris will pass donations to the charity.
This new store at Merry Hill is the second Wild Iris boutique in the Midlands region; the first Wild Iris shop opened in Ironbridge back in July 2019. After successfully navigating both the devastating 2019 floods in Ironbridge and a global pandemic, which saw the store switching to online trading, The Merry Hill store is Wild Iris' newest and biggest venture and forms part of an ambitious expansion plan.
Owner, Toria, who knew retail was her calling and passion from a young age, says: "I am so delighted to be opening at Merry Hill. I actually spent eight years of my career as an assistant manager in the centre, so this is like coming home. Wild Iris has proven incredibly popular in Ironbridge, so being able to bring our unique and eclectic mix of fashion, jewellery, homeware and local art to Merry Hill is beyond exciting.
"At Wild Iris we specialise in sourcing the most unique & beautiful items for our customers; always ensuring we have something new and special for everyone covering ladies' clothing, jewellery & accessories, to locally handcrafted gifts and art work - all of our products are sourced with our wonderful customers in mind. I am passionate about sourcing local products and showcasing local artists to share the beauty and talents of our wonderful corner of the world with customers. I know from what my customers tell me that they love nothing more than supporting local businesses and being spoilt for choice with unique gifts and fashion, so I'm incredibly excited to bring that offering to Merry Hill."
Duncan Burns, Marketing Manager at Merry Hill said: "We're delighted to welcome Wild Iris to the centre, which adds to our growing number of local and independent stores that now call Merry Hill their home.
"Wild Iris is an exciting and dynamic boutique, which will provide our visitors with an extraordinary experience of shopping and discovering unique women's clothing, accessories and gifts.
"The opening comes at a really exciting time for the centre, with a growing number of brands investing in new space as we continue to build on our retail offering for our visitors."
Toria is also a motivational speaker and was recently invited to talk to students about being a successful entrepreneur at Aston University. As well as running an award-winning boutique, since the brand first launched two years ago Victoria has supported numerous charities and has worked hard to showcase the talents of local artists.
Toria adds: "Since opening my first store in 2019 I've experienced the highest highs and lowest lows, but Wild Iris continues to go from strength to strength; from the challenges of flooding and a global pandemic to hugely successful online, in store and pop-up events and now expansion into one of the most popular shopping centres in the UK. I am very much looking forward to seeing what the future has in store.
"Supporting local businesses is so important and I think the pandemic has really brought into focus the need to support and shop local."
For more information about Wild Iris visit: Wild Iris Boutique (wild-iris.co.uk)

Submitted by Jonathan from Merry Hill