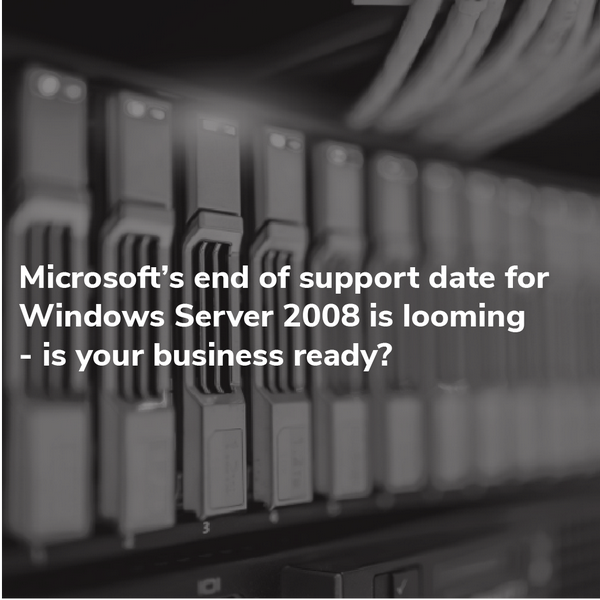 Microsoft's End Of Support Date For Windows Server 2008 Is Looming - So Is Your Business Ready?
20 Dec 2018
Published in: Blog
---
Microsoft will withdraw support for Windows Server 2008 in January 2020. Unsupported versions of old operating systems create serious security risks for unprepared businesses.
---
Microsoft is known for technological innovation. Still, change does not come without its challenges and customers who may have invested in a particular system may find that old versions are replaced and support is eventually wound down as new products are rolled out. Think about Windows Vista, Office 2007 or Windows XP – today all officially retired and consigned to the history books.
And now there's another date to add to the computing calendar: Microsoft will withdraw support for Windows Server 2008 and 2008 R2 on January 14, 2020. Put simply, Microsoft will no longer release security patches and bug fixes for this operating system, with the result that businesses may find their data compromised and vulnerable to threat.
Unsupported versions of old operating systems create serious security risks for unprepared businesses. Failing to take adequate protection could even put a company in breach of data protection regulations, which carry increasingly heavy financial penalties.
While 2020 may seem a long way in the distance, when it comes to overhauling IT infrastructure and business-critical operating systems, there is no time to lose. Decisive action must be taken now. Upgrading to a new solution may be more complex than anticipated, so will require careful planning to ensure continuity and no disruption as the deadline approaches.
Be prepared
The first step an organisation needs to take is a thorough audit of the IT 'estate' – including what data is held where, apps and software, hardware and network infrastructure – to determine readiness for the change. As the old saying goes, forewarned is forearmed.
Depending on the findings of the audit, it may be decided to upgrade a company's onsite servers, choose complete migration to a cloud-based solution such as Azure, or even a hybrid combination of the two options.
Microsoft is currently actively campaigning to raise awareness of the forthcoming deadline among businesses, and as its promotional video says: "The only wrong choice for your organisation to make is not making a choice." In other words, there's no running away and hiding from this one.
Transformation is an opportunity
It's not all bad news, however. Whether a company chooses to retain an onsite infrastructure or opt for migration to Azure, any upgrade is an opportunity to explore how IT can be made more efficient, productive and streamlined. Yes, the 2008 suite of products were fit for purpose at the time. Nevertheless, a decade later, and the world of work is beginning to look very different indeed.
Employees expect more flexibility, with the ability to collaborate on multiple devices, wherever in the world they happen to be. There is less need for the management and maintenance of expensive, bulky and resource-draining onsite hardware. Taking full advantage of even more advanced cloud solutions has the potential to truly transform the way an organisation works, while offering cost savings and improved security in the long term.
Don't wait until it's too late. Take the time to prepare now to avoid disruption as the deadline approaches. If you would like to speak to MSV Consultancy about how to start your Windows Server 2008 end-of-life action plan, feel free to get in touch.

Submitted by Tim from MSV Consultancy