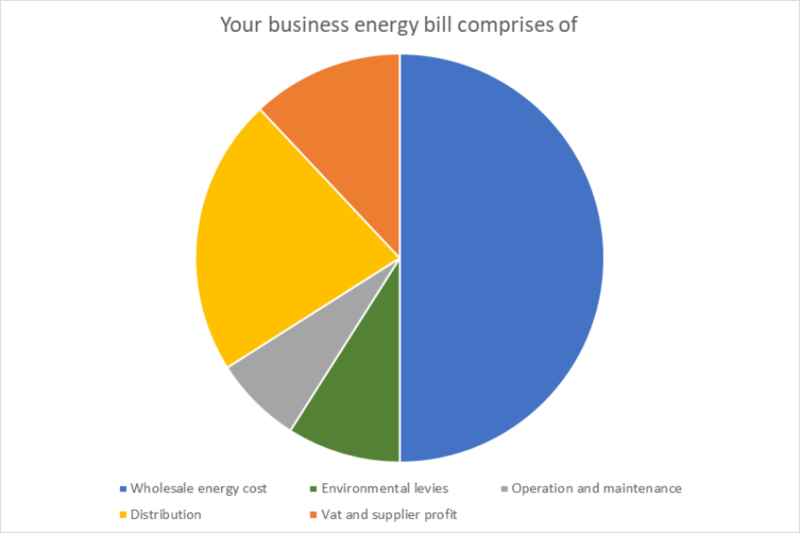 miss-sold energy contracts
17 Apr 2020
Published in: Member News
---
Taking a look at some of the ways energy contracts are miss-sold
---
The news recently that small businesses are being ripped off by rogue energy brokers comes as no surprise to us here at Control Energy Costs. We are currently helping several businesses who have found themselves miss-sold a deal that has been poor value or misleading in some way.
Miss-sold energy contracts
There are several ways that rogue energy brokers position their offer to entice you in.
Pass-through contracts
These kinds of deals look great when you take them at face value, a low kWh price is offered by the broker. But the smokescreen fades quickly once you receive your first bill because these deals don't include all the additional fees, charges and levies.
These fees charges and levies make up a significant portion of your bill as you can see from the diagram below, so the great deal you were offered is not what you end up getting.
When these types of deals are sold, the broker is careful about how they word their sales pitch over the phone, and they are often keen to seal the deal quickly. If you are called by a broker keen to sign you up immediately, we would recommend that you take some time out to do your due diligence and ensure you aren't being offered one of these pass-through contracts.
The undisclosed commission contracts
If your energy broker isn't being transparent and disclosing their fees, the chances are you could be in for a nasty surprise. Unfortunately, we frequently see businesses who have been paying significant broker fees that they weren't made aware of at the time of signing up. Any broker who isn't honest and transparent with what they are being paid is likely to be charging you over the odds.
Wholesale costs with huge commission built in
Over the past six months, there has been a significant decrease in wholesale energy prices. Gas has fallen approximately 26% and electricity has fallen approximately 16%. Unscrupulous energy brokers will be keen to offer what looks like a great saving based on what you are currently paying, but in fact, they're building in large commissions.
If you feel you have been misled by your broker
We are currently assisting several clients who have been mis-sold a contract by their previous energy broker, so if you think you might have been mis-sold an energy contract, or that you are overpaying for your energy why not get in touch with us today.
Submitted by Liam from Control Energy Costs Ltd