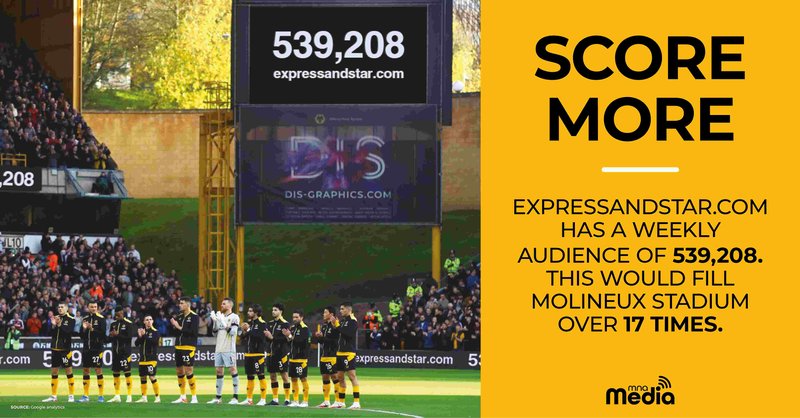 MNA has it all figured out with its latest campaign
24 Feb 2022
Published in: Member News
---
The Midland News Association's latest campaign reveals some of the incredible figures behind the company's success.
---
In a series of social media posts released this week, the publishers of the Express & Star, Shropshire Star and associated weekly papers announced the figures, which show they have remained resilient during the pandemic.
The campaign reveals that 1,376,258 people engage with the company's various news brands each week. According to the new figures, Expressandstar.com has a weekly audience of 539,208 – which would fill the Molineux Stadium more than 17 times. Also, Chronicle Week is the UK's biggest free weekly regional paper and has a distribution of 140,412.
When it comes to advertisers having confidence in the company the figures show that supermarkets placed 1,068 pages of adverts with the newspapers last year. At the same time the government turned to the MNA to get messages out about the pandemic and other issues, booking 2,171 pages of adverts across their titles. It's not surprising that both the Express & Star and the Shropshire Star are in the top ten best-selling regional papers in England.
Kim Hazel, head of advertising for the MNA, said: "Like a lot of other businesses, we have had to weather the storm created by the pandemic. So, when we saw these latest figures we decided we wanted to shout about them. As one of the country's most trusted brands we saw how supermarkets such as Tesco, Sainsburys and Asda increased their advertising as the demand for home deliveries and click and collect increased.
"One of the biggest increases in advertising came from Co-op as consumers decided to shop at local stores and not travel far. Also, it was great to see the government leading the way in valuing the important job that the local press do in getting those vital messages out to their readers."
Martin Wright, editor-in-chief for the Express & Star and Shropshire Star, said a joined-up effort across all departments at the MNA has led to the recent figures. "From our editorial and advertising teams, through to circulation, promotions and the delivery drivers – these figures are the result of the efforts put in by everyone at the company.
"We have always been one of the most trusted sources of news for people in the region and beyond, and this was highlighted during the pandemic when our readers turned to us for the latest information, and businesses relied on us to reach their customers. As we move into a post-pandemic world we plan on building on our success, by continuing to create news brands that are highly valued by readers and businesses alike."

Submitted by Cathy from Express & Star Ltd