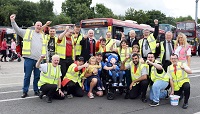 National Express Supports Local Charities Day
04 Jan 2018
Published in: Member News
---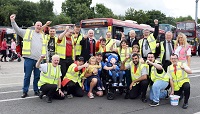 Public transport provider National Express is proud to support Local Charities Day, having donated nearly £190,000 to local causes this year.
The company's national coach network, which serves more than 900 locations right across the UK has raised nearly £30,000 for more than 20 charities. One of the charities, "The Choir With No Name", supports people affected by homelessness in Birmingham. Staff from the National Express coach division have helped to raise enough funds to get the group from Birmingham to Brighton for a choir performance.
---
The National Express UK bus division operates local buses across the West Midlands and Dundee - and at the beginning of the year each location selected a charity to partner with. Through activities including garage open days, cake sales, raffles and even an abseil, over £9,500 has been raised for local charities including Birmingham Children's Hospital, St Basils, Rainbow Ripples, and Friends of Alfie Johnson.
Tom Stables, National Express Managing Director UK, said: "As a transport company, we don't just move vehicles. We're very proud to play a vital part in our communities and are delighted to have been able to support local charities as well as our own staff, who all do some fantastic work to help others."
Local Charities Day highlights the work of charities that are making a difference in their communities and celebrates the commitment of volunteers who devote their time to improving the lives of others.
National Express also supports its own employees' personal fundraising and volunteering activities through an Employee Charity Panel. The Panel meets quarterly to agree donations for charities and groups actively supported by staff in their own spare time. Over £5,000 has been awarded to nearly 30 different organisations personally supported by staff this year.
The National Express Foundation, the transport operator's UK registered charity, supports local charitable and voluntary groups working with young people through educational bursaries and community grants. Since its launch in 2012 the Foundation has helped nearly 15,000 young people through funding support for 50 charitable groups in the West Midlands and Kent, as well as colleges and universities. This year £145,000 was awarded to nearly 30 organisations.