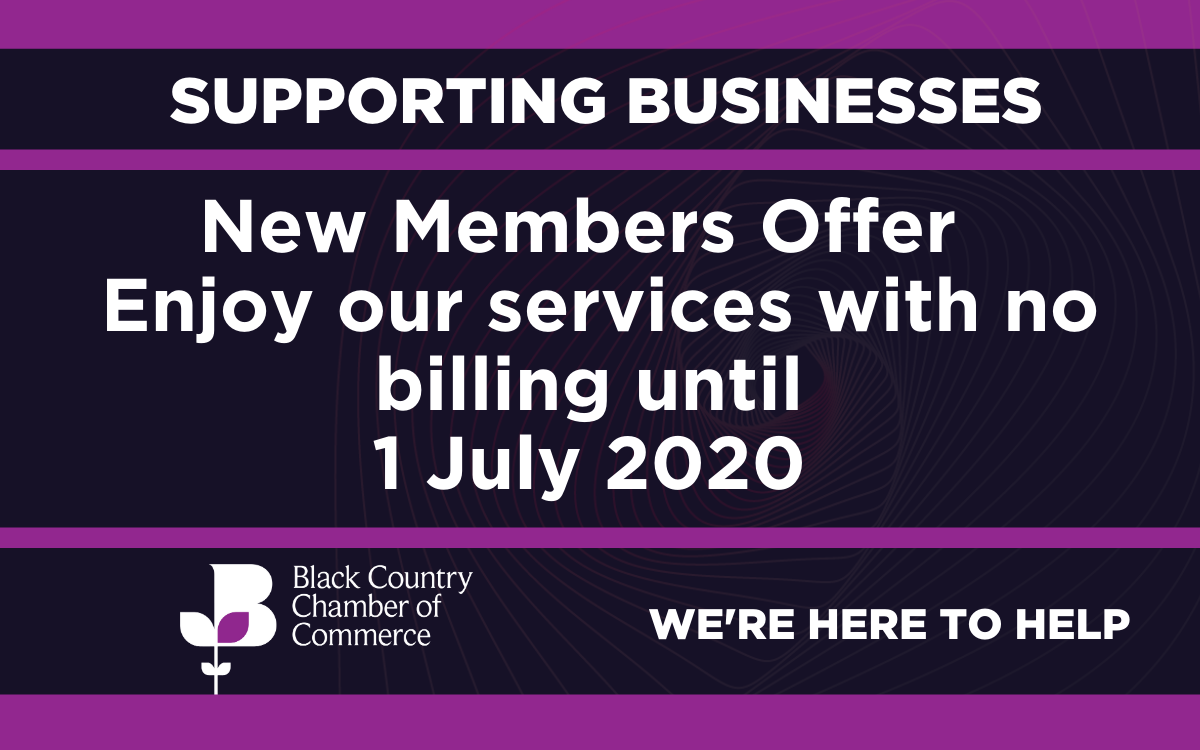 New Chamber Members Won't Pay Until 1 July
26 Mar 2020
Published in: Black Country Chamber of Commerce News
---
We're here to help and want to support new members with up to three months free membership
---
These are unusual, uncertain and unique times for businesses.
The Black Country Chamber of Commerce has been helping businesses throughout the region for over 160 years and, during this challenging period we want businesses to know that we are still here to help.
Our platforms and channels remain some of the most accessed and utilised business to business solutions across the region. These are great places for members to communicate, promote, meet and highlight their news and continue to receive high levels of engagement and interactions.
Since COVID-19 has changed the way we all operate and do business, we have seen an increase in the demand for our services.
From analysing and sharing the latest announcements and detailing what they mean to the local business community to the delivery of new online virtual events; the Chamber continues to act as the leading business support agency for local businesses which advocates and lobbies on behalf of its members at the highest levels of government.
Business is done better together and we don't want firms to miss out.
Therefore, new members joining us can access all of the benefits and services the Chamber offers for free until the 30 June 2020 with billing to commence from 1 July 2020.
Any business interested in accessing our profile-raising opportunities, money saving benefits or lobbying work should email richardbrooks@blackcountrychamber.co.uk.
More information about our services and membership types can be found here.
__________________________
Offer available to new members and previous members of the Chamber who have previously resigned. Offer is applicable against all membership packages and cannot be used in conjunction with any other offers. This offer can be taken up at any time between 1 April and 30 June 2020 – it is recommended that businesses sign-up earlier to maximise the window of free membership between 1 April 2020 and 30 June 2020. Those businesses taking up the offer must commit to 12 months of paid membership from the 1st of July 2020.