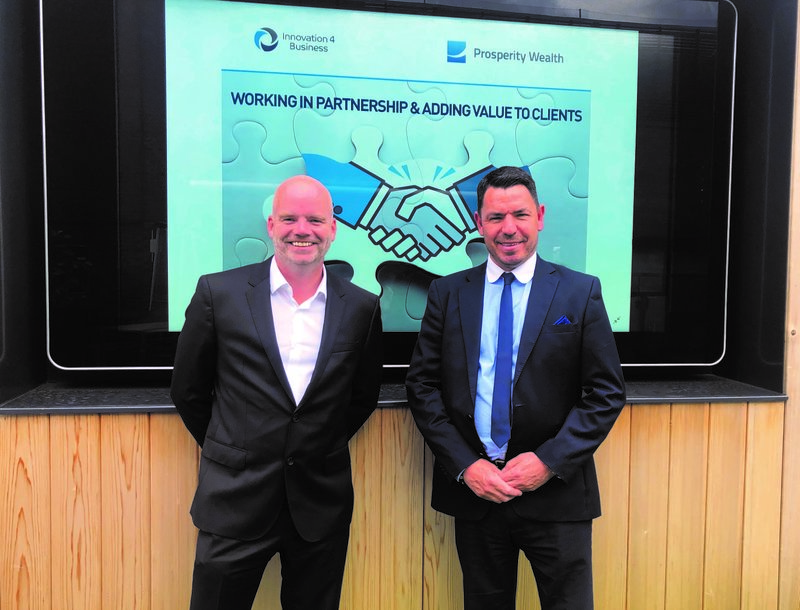 New Strategic Alliance for Prosperity, means added value for clients
06 Jun 2019
Published in: Member News
---
Partnership with Birmingham based firm significantly boosts portfolio of services
---
After months of hard work 'behind the scenes' Prosperity Wealth Limited officially unveiled their Partnership with Innovation 4 Business; with a group training day and celebration at the Cornerblock offices, in the heart of Birmingham's Financial District.
The Partnership will see Prosperity working in tandem with both Innovation 4 Business and their Specialist Commercial Finance Brokerage arm Finance 4 Business – with reciprocal business being passed both ways, resulting in a boost to the service portfolio available for clients of all parties.
The Adviser and Business Development Teams, along with Directors Matt Williams and Matt Bell, attended a training session led by Innovation 4 Business' Managing Director Phil Moore, about R&D Tax Relief – just one of the significant new services Prosperity Wealth clients can now take advantage of, thanks to the team of expert tax advisers at Innovation 4 Business, helping them unlock potential funding and stimulate business growth.
Further services available to support clients include; increased Commercial Finance options (including Bridging Loans and Development Funding) as well as Stamp Duty Land Tax Services, Commercial Mortgages and Asset Finance.
Commenting on the Partnership, Matt Bell of Prosperity said:
"Its has been a fantastic day today, the culmination of around 6 months work developing our relationship with the Innovation 4 Business and Finance 4 Business Teams. All of our Commercial Clients will benefit from the new services & support we'll be able to provide to them in the future"
Fellow Director Matt Williams added:
"We are genuinely excited about the prospects of this partnership and how it will help the businesses we work with, as we strive to be 'more than just IFAs'; offering our clients increased support across the spectrum of financial services and enhancing the customer journey with Prosperity Wealth"
Pictured: Matt Bell (Prosperity Wealth) with Phil Moore (Innovation 4 Business)
For more information, please visit: www.prosperitywealth.com or contact Business Development Manager, David Hadley david.hadley@prosperitywealth.com
Submitted by David from Prosperity Wealth Ltd
Comments
No comments have been submitted yet.