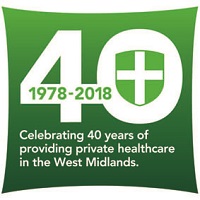 Nuffield Health Celebrating 40 Years of Private Healthcare
10 May 2018
Published in: Member News
---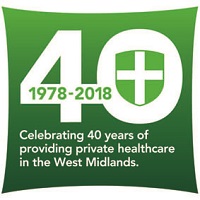 Nuffield Health Wolverhampton Hospital is celebrating four decades of providing fabulous private healthcare in Tettenhall for patients in the West Midlands and beyond. During February and March this year, all patients when asked if they would recommend the hospital responded with a stunning 97% and an amazing 99% had confidence and trust in the Nuffield Health doctors, nurses, physiotherapists, housekeepers and caterers. In June and July there are a number of events for people to attend to obtain a flavour of the services available.
Assisting the local community through the NHS work it carries out, the hospital also provides private treatment with no waiting lists for those with insurance or who decide to pay for themselves. For the last two years it has invested in the local community by being the official medical services supplier to Wolverhampton Wanderers Football Club. Nuffield Health Wolverhampton Hospital is a well established healthcare provider, having achieved and maintained the highest levels of patient satisfaction in Wolverhampton for 40 years.
---
Recent developments include additional consultants for the one stop breast clinic and to boost the spinal services team, so that patients no longer have to wait for assessment, diagnosis or treatment. In the last two years, a dedicated cancer suite has been added to the superb facilities and a £1.8 million imaging suite commissioned, open six days a week, providing rapid access without waiting, so people can get better faster.
In March last year the health sector regulator, the Care Quality Commission (CQC), gave an overall rating of "Good' for Nuffield Health Wolverhampton Hospital. The private hospital in Tettenhall is part of a group of 31 Nuffield Health hospitals nationwide, and 112 fitness and wellbeing gyms which is the largest independent not for profit health and wellbeing organisation in the UK. This means that any surplus is invested back into the hospitals for the benefit of patients. Nuffield Health was named private hospital group of the year at the Laing Buisson Awards 2017. The award celebrates high quality care and continuous improvement, as well as innovation and excellence in going above and beyond. The Nuffield Health group also won 2017 Health Investor Award, designed to recognise outstanding contribution to healthcare over the previous 12 months, through innovation and excellence in healthcare products and services.
There are regular free information evenings at the hospital in Tettenhall; 14th June is Hip Replacement, 21st June will be Hip & Knee Problems, 28th June discusses Hand & Shoulder Problems, whilst 4th July and Thursday 5th July are both on Spinal Problems.
To book for these events, or to find out about other patient focused events, please ring 01902 793269 or see www.nuffieldhealth.com/hospitals/wolverhampton.
Comments
No comments have been submitted yet.