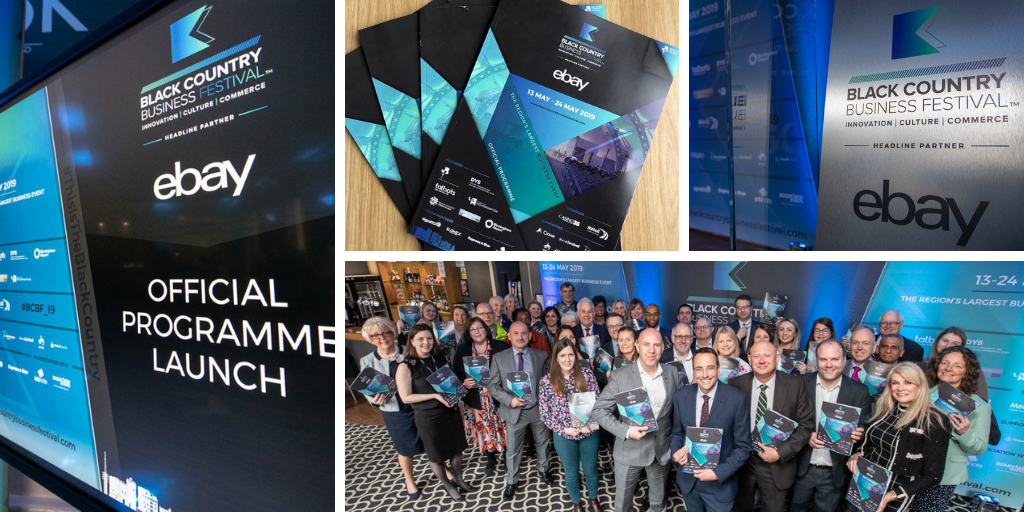 One Month Until the Region's Biggest Business Event
16 Apr 2019
Published in: Black Country Chamber of Commerce News
---
Sponsors, partners and supporters gathered at the Wolverhampton Grand Theatre to mark the release of the official brochure for the Black Country Business Festival.
---
The bumper 52-page guide, produced by Associate Events and Business Festival media partners, the Express & Star, features all 113 events in an easy-to-read calendar format. It is now being distributed widely across the region but can also be viewed on the Business Festival website.
The Business Festival almost certainly has something for everyone. Whether a small business that is looking for marketing, business development, HR or financial support to grow, or a larger organisation that might be recruiting, seeking new supply chains, aiming to reduce energy consumption, finding out more about health and safety and fire regulations, employment law or mental health in the work place, there is a suitable event!
Events come in all shapes and sizes from large expos and gala dinners to factory tours, small workshops and networking events and they take place at venues all over the Black Country. Most are completely free to attend, but tickets must be booked in advance and are available on a first come, first served basis. Already nearly 1000 tickets have been booked and this is set to escalate with the release of the brochure and as the Festival gets ever closer.
Corin Crane, Chief Executive of Business Festival founders, the Black Country Chamber of Commerce, said, "Things are really starting to heat up now. We've got an extremely strong programme of over 100 useful, interesting, thought-provoking, exciting and engaging events that will benefit businesses across the Black Country and beyond, helping them to learn, share, interact, engage and grow. Tickets to events will be flying out the door from now, so it's important that everyone registers for the events they want to attend as soon as possible.
"I am really pleased with the way it's all come together again. Everyone knows what the Business Festival is about now so the main emphasis is on growing and nurturing this fantastic annual fortnight so it continues to become better and more beneficial each year.
"Finally, I would like to acknowledge the fantastic array of partners and sponsors involved this year, in particular eBay which, even though only a recent addition to the Black Country, jumped right in and are reaching out to the local business community."
In addition to headline partner, on-line retailer, eBay, partners include the Black Country Chamber of Commerce, DY5 – Dudley's Business and Innovation Enterprise Zone, Talbots Law, the University of Wolverhampton, Birmingham Airport, Black Country Local Enterprise Partnership and Black Country Growth Hub.
Sponsors are Casino 36 and M6 Toll. Supporters are Wolverhampton Racecourse; accountancy firm, Crowe; Wolverhampton Grand Theatre, Think Sandwell, Gecko Programmes and Walsall Council. Media partners are Signal 107, the Express and Star, outdoor media experts, Elonex and Infonote Datasystems. It is run in association with Associate Events.

Click here to view the digital version of the Festival brochure

For more information, to see the complete calendar or to book tickets for events, visit www.blackcountrybusinessfestival.com