Open Day to Showcase Job Opportunities
05 Jun 2018
Published in: Member News
---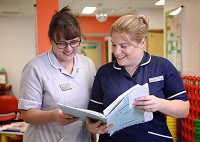 The Royal Wolverhampton NHS Trust is to hold an interactive open day event to give registered and student nurses a taste of what life at the Trust is like.
The Trust is currently recruiting for staff to work in the neonatal department and children's services located at New Cross Hospital and the Gem Centre.
There are posts available on neonatal, children's outpatients, health visiting and transitional care.
---
New recruits will be joining a dynamic and dedicated team of experienced staff.
To showcase our amazing children's services we have organised an open day for nurses to meet the teams and discuss opportunities.
Potential new team members will have a chance to see our 26 cot neonatal unit, dedicated children's ward, newly refurbished paediatric assessment unit and the transitional care unit.
On the day there will be a shuttle bus to take potential new staff members for a tour of the Gem Centre and Children's Village.
The informal drop-in will be held on A22 (children's outpatients) at New Cross Hospital between 10.30am and 4pm on June 23rd 2018, and there will be interviews held on the day for those who have completed an application form on NHS jobs.
Conditional offers of employment will be made on the day to successful candidates before they leave.
There will also be various talks and training sessions available on a selection of different areas including baby massage, breast feeding and tissue viability which can be used to support revalidation.
Professor Ann Marie Cannaby, Chief Nurse for The Royal Wolverhampton NHS Trust said: "This is an excellent opportunity for prospective new recruits to get a feel for the place and meet the teams.
"I would encourage any qualified nurse with an interest in working at our varied sites to come along to the day to find out more. "
If you cannot make the open day, we welcome informal visits to all our children's services.
If you have any questions regarding the open day or job opportunities, please contact Nurse Recruitment rwh-tr.NurseRecruitmentBureau@nhs.net or telephone 01902 695445.