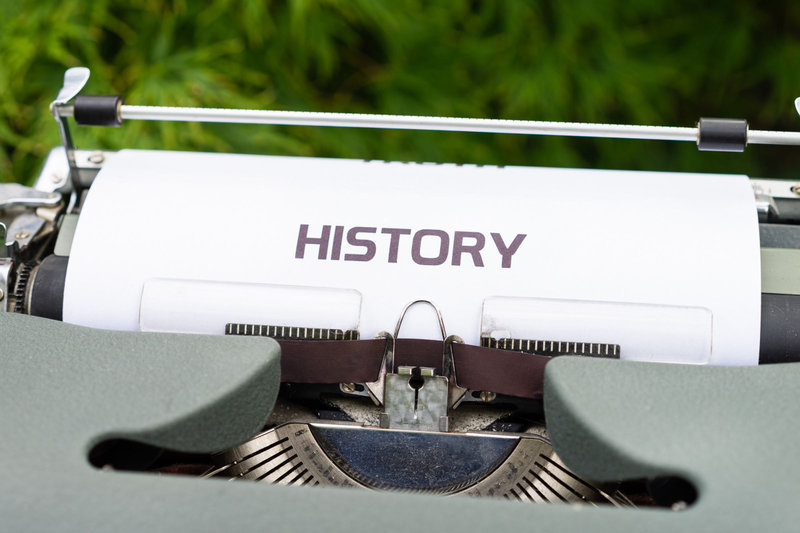 Over 70 years of Hose Experience
07 Oct 2021
Published in: Member News
---
A brief history of Winster's involvement in the UK hose market
---
Winster is a name long associated with the hose industry, with a history that goes back to the 1940s. In that time the market for hoses has seen significant change, and so has the company now known as Winster Limited. Winster was established by Bill Wheatley, with an initial focus on the supply of hydraulic hoses to the deep mining industry. We created the Winster "Safety First" triangle which quickly become a recognised quality mark.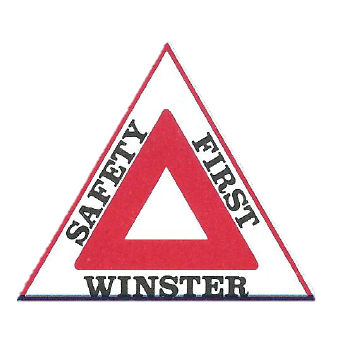 The 1950s and 1960s saw a diversification and expansion of the business, supplying the construction industry and Original Equipment Manufacturers (OEMs). To support this expansion, a network of depots was established. Winster established a reputation for producing longer length hoses than other manufacturers and the company patented and adopted a vulcanisation process which gave Winster hoses more flexibility than those of rival manufacturers. In 1965, the company formed the Winster Mechanical Division, based at Ilkeston in Derbyshire producing a range of equipment specifically for the mining industry. In the same year, Winster Engineering was also established. Four years later, in 1969 Winster Hose was formed as a separate division manufacturing longer length hoses with consistent interior and exterior diameters at a brand-new facility in Whitby, Yorkshire. The use of computer-controlled manufacturing and laser technology to ensure consistent high-quality hoses up to 600m long was typical of Winster's commitment to embracing new thinking.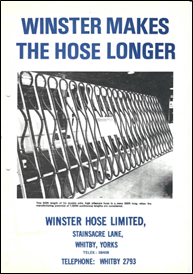 The 1970s and 1980s brought more change; as the UK mining industry declined, Winster diversified into general industrial hose supply, including OEM manufacturers of plant and machinery. During this period, each Winster depot added swaging and testing facilities to meet local customer needs and ensure quality standards were maintained. A second manufacturing site at North Allerton in Yorkshire was opened in 1978 to produce couplings and adaptors to meet mining industry standards and the growing volume and quality demands from all customers. Again, Winster was quick to adopt new technology with the use of robotics in the factory. In 1983-84 seven more depots were added, extending the network to 14. Locations included Coatbridge (near Glasgow), Coventry, Gloucester, Ipswich, South London, Lancing (near Brighton), Tyneside, Nottingham, Preston, Fareham and Wakefield.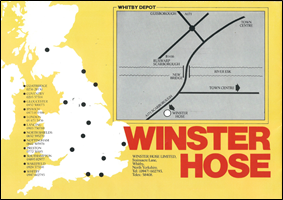 Winster became the first hose manufacturer to be awarded the prestigious BS5750 quality accreditation with regular external audits from BSI assessors. In the late 1980s an onsite callout service was added featuring the "Winster Hose Man", providing 24/7 support for key customers.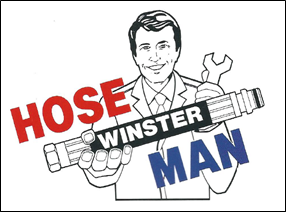 Winster's commitment to quality was encapsulated in "The Winster Way".
In 1992, the company name was changed to Winster limited, and Winster Hose was sold to Brasway in 1993 for £2.6M.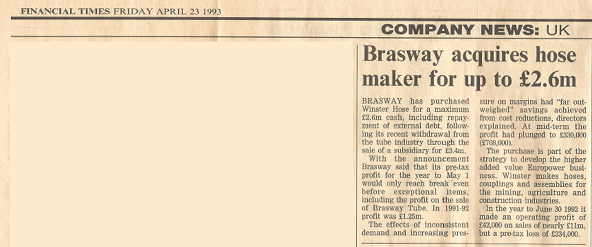 Through the 1990s and early 2000s, Winster expanded the product range, supplying all low pressure industrial hoses, and consolidated into a single 8,000 ft2 central distribution centre in Wolverhampton. In 1998, the company celebrated 50 years in the hose industry and in 2000, Robert Wheatley succeeded his father Bill to run Winster Limited.
Despite the economic shock resulting from the Financial Crisis of 2007 – 08, Winster continued to grow over the next 5 years, adding customers across a wide variety of industry sectors with a range of high quality hoses and accessories, customised to meet the needs of the end-users they sell to. To support this expansion, Winster relocated to a larger, 20,000 ft2 warehouse which was then further extended to 24,000 ft2. During this period, the business also launched an extended range of landscaping products.
In 2014, the manufacturing and production departments were established as discrete areas within the warehouse to handle the increasing demand for customised products, bespoke customer packaging and own-brand products. Sadly, our founder, Bill Wheatley passed away in 2016, with his son Robert taking the role of Chairman and Val Gardner promoted to Managing Director.
A quality programme was introduced supported by regular independent external monitoring, and lean manufacturing processes were also embedded at this time, which has supported significant sales growth of in-house produced assemblies.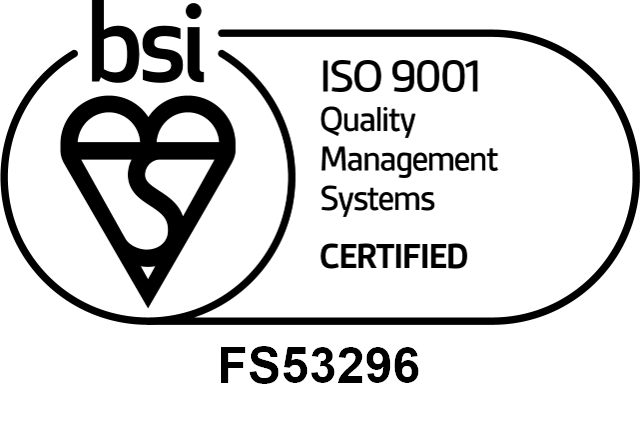 Submitted by Chris from Winster Limited