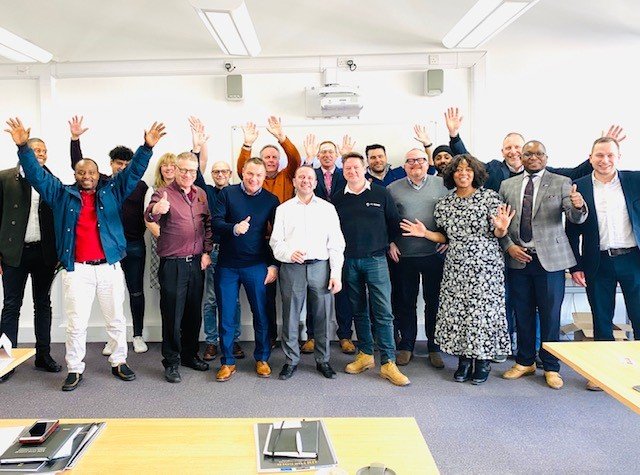 Participants give a high-five to AIM for GOLD Growth Planning Workshop
12 Feb 2020
Published in: Member News
---
The City of Wolverhampton Council Business Development Team continues to support indigenous SMEs with their growth plans.
---
The City of Wolverhampton Council's Business Development team, as part of the ERDF part-funded AIM for GOLD Business Growth and Grant programme, successfully delivered the first Growth Planning workshop for SMEs that have joined the second cohort of the programme.
The event took place at Black Country Chamber of Commerce Boardroom on Tuesday 11th February where 15 businesses attended and received rave reviews by the participants. The workshop was delivered by members of the Business Development Team Hannington Gondwe and Glenn Watts.
The objective of the workshop was to help businesses develop a sustainable growth plan that factors in both internal and external market factors affecting their individual business and sectors. At the end of the workshop participants walked away with an insight into analytical tools to review business sector and marketplace, an understanding of the difference between business plan and growth plan, tools to identify the ideal customer for the growth plan, the ability to define and measure your business's key performance indicators, and finally, knowledge on how to prepare a growth plan.
The 35 companies that have joined cohort two will have a series of structured business support over the next 6 months ranging from thematic workshops on growth planning, financial management, marketing, reflective leadership, innovation and workforce development. In addition, the SMEs will also have access to one-to-one coaching sessions, introduction to supply chain opportunities, referral to Council's key stakeholders or partners – if necessary, and access to financial support of up to £50,000.
The AIM for GOLD Business Growth and Grant programme will run until early 2023 and is expected to support about 200 indigenous SMEs base in Wolverhampton with their growth plans to ensure that the City continues to grow the local economy and in so doing create job opportunities. The next cohort will commence in June 2020 and interested companies can register their interest with the City of Wolverhampton Business Development Team.
For more information about the programme please visit http://www.investwolverhampton.com/aimforgold/ or email business.development@wolverhampton.gov.uk.
Submitted by Hannington from City of Wolverhampton Council