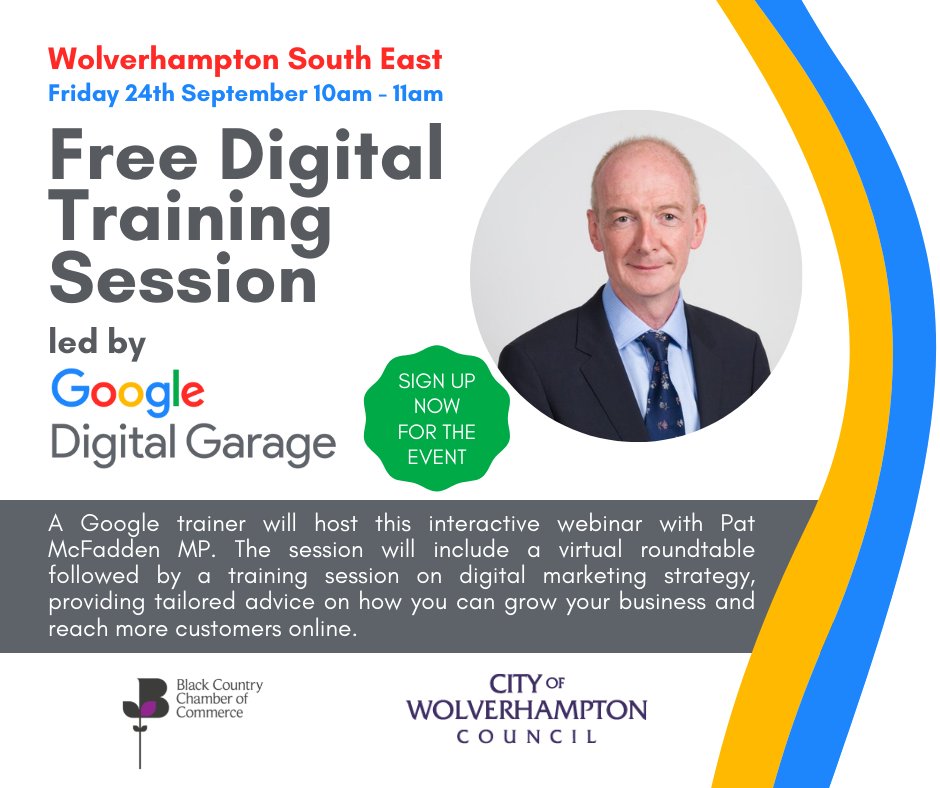 Pat McFadden MP Invites Wolverhampton Businesses to Google Digital Garage Workshop
14 Sep 2021
Published in: Other
---
A free digital marketing workshop is being offered to small businesses, charities and individuals in Wolverhampton on Friday 24th September.
---
All across the UK, businesses and charities are adjusting - and making sure your organisation can too is more important than ever.
That is why Pat McFadden MP is calling Wolverhampton businesses to join in this session by one of the Google Digital Garage trainers to share some tips and tricks on how you can improve your digital marketing strategy, and answer any questions you may have about the free training and one-to-one mentoring that they are offering for small businesses and charities.
To make the training session as useful as possible for you, the roundtable and webinar will be interactive, allowing you to pose questions to me and the Google Digital Garage trainer, as well as take part in polls to share thoughts on your experiences.
Date: Friday 24th September
Time: 10am– 11am
How: Visit the registration page at https://events.withgoogle.com/wolverhampton-south-east-digital-garage/registrations/new/
Who: Small businesses, charities and individuals in Wolverhampton South East
Please register in advance of the event to reserve your spot.
The Google team will follow up with additional details.
If you are unable to join this session, Google Digital Garage also runs a series of free live webinars, running Monday to Friday (you can see the schedule here). You can also browse through Google's free online courses, with modules that focus on topics such as graphic design and effective social media techniques, allowing you to learn at your pace.