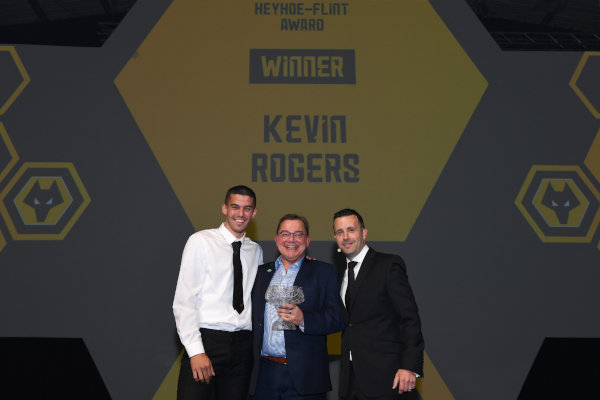 Paycare Boss Praised by Wolves
31 May 2019
Published in: Member News
---
Local businessman Kevin Rogers was taken by surprise at Wolves' end of season dinner after being recognised for his contribution to the Club and its Foundation.
---
Kevin, CEO of Paycare, was announced the winner of the Rachael Heyhoe Flint Award by the Foundation on 8th May, in recognition of his and the organisation's continued support spanning over 20 years.
The award was presented by Wolves' Managing Director Laurie Dalrymple, who praised Paycare's continued and long-standing sponsorship of the Baroness Rachael Heyhoe Flint Accessible Lounge and support of its Period Poverty campaign, as well as Kevin's passion for promoting various health and wellbeing initiatives across the community.
Laurie said: "Since 1998 Paycare has held an important role at Wolverhampton Wanderers as a supporter of the Baroness Rachael Heyhoe Flint Accessible Lounge, which provides a safe and comfortable space for disabled Wolves fans, as well as Founding Patron of the Way Youth Zone, a dedicated facility for the city's young people.
"Kevin's role at Paycare has been beneficial to so many across our region and on behalf of the Foundation staff, volunteers, schools, participants, and the local community, we would personally like to thank him. The work that the Foundation does wouldn't be possible without the kindness of people like Kevin and the generosity of Paycare."
Kevin joined Paycare in 2009 as Operations Director and was appointed CEO in 2013, a role which has seen him make many positive developments to the organisation's policyholders, its team, and the wider community.
As a not-for-profit, the organisation has donated £2.2million to charities, initiatives and projects across the UK to date, through sponsorships of grass roots sports teams such as Libra Lea Netball Club, Wednesfield Ladies FC and Penn Cricket Club, support of mental health awareness campaigns, training and education for young people, and of local facilities such as Birmingham Children's Hospital and the Wolverhampton Rotary Club.
Kevin said: "I was completely blown away when I heard my name being called from the stage. It was so unexpected and I feel incredibly humbled, particularly given the award is presented in memory of the wonderful and sorely missed Rachael Heyhoe Flint.
"As an avid Wolves supporter, this recognition means so much to me personally, and it also reflects the hard work and passion of the entire Paycare team, who bring their all to everything they do and make a real difference to the quality of lives for our policyholders, our team and the communities that we serve. Thank you!"
Paycare is a not-for-profit Health Cash Plan provider which helps businesses recognise, reward and retain their employees, and provides preventative support covering their physical, mental and financial health and wellbeing needs. For more information about its range of corporate plans and how they benefit both businesses and employees, please visit www.paycare.org or call 01902 371000.
Submitted by Jennie from Paycare