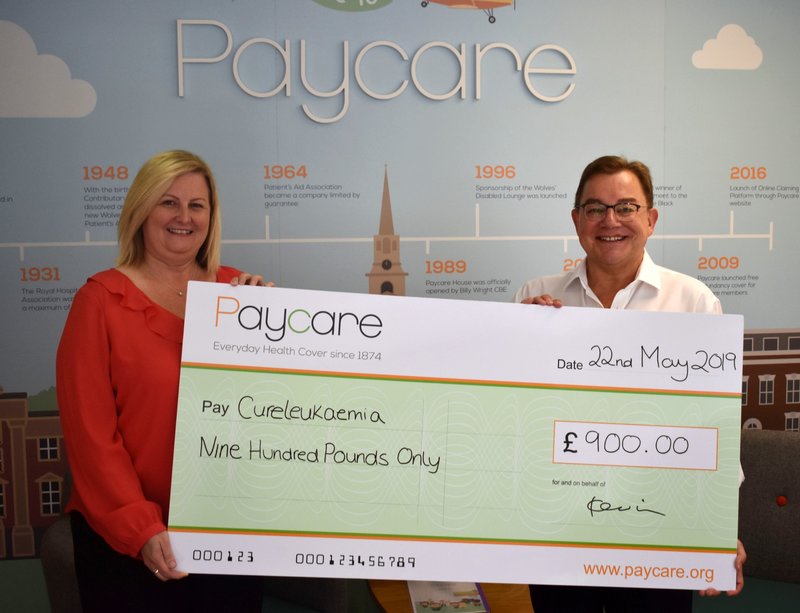 Paycare Staff Supported to Give Back Via 'My Giving'
07 Jun 2019
Published in: Member News
---
Employees at Paycare in Wolverhampton will now be able to further support causes close to their hearts thanks to the launch of its newest initiative.
---
Paycare, a not-for-profit Health Cash Plan provider in Wolverhampton, has launched 'My Giving', an initiative which provides each and every member of staff with a direct donation of £250 towards a charity of their choice.

The scheme complements the firm's existing initiative which provides employees with two additional and fully-paid days of annual leave each year, used for the purpose of giving back – whether it be fundraising, donating their time, or volunteering to support an event.
Kevin Rogers, CEO of Paycare, explained: "In 2017 we launched our scheme to provide two extra days off to staff so that they could support a cause they care about, and this has been a huge success. As a not-for-profit we're committed to our Employees, our Communities and our Policyholders, and we're constantly thinking about how else we can make a positive difference to all of these groups.
"The creation of our new 'My Giving' scheme means that staff can receive £250 in a direct donation to a charity or cause close to their hearts, making our not-for-profit status even more personal to them and providing greater emphasis on our mission to help others.
"It also benefits our Policyholders by showcasing how, by choosing Paycare, they are indirectly enhancing local communities, and it helps the charities and causes themselves, who rely so much on volunteers, donations, and support. It's a win situation all-round and I'm thrilled with its uptake already."
In April 2019, Cheryl Glover, Policy Administration Team Leader at Paycare, held a quiz night at Paycare House in support of Cure Leukaemia, raising £900 in total through entry fees, raffle money, and the £250 donation by Paycare.
He added: "Many of our team have booked off their charity days and some have already made use of the funds we're providing, including Cherly's successful quiz event at Paycare HQ.
"Emily, our Marketing & Partnerships Manager has used some towards her Amazon Trek for Midlands Air Ambulance Charity, and Jodie, our Policy Administration Assistant is planning to use the money to kick-start her half-marathon in aid of Cancer Research UK later this year. I look forward to reflecting on the combined impact we've been able to make as a team thanks to this initiative."
Cure Leukaemia's Head of Corporate Partnerships, Jackie Kelly, said: "We would like to thank Cheryl for organising the quiz and raising such a fantastic amount in memory of her Dad. This is a great initiative from Paycare to encourage their employees to grow an initial donation into a more substantial figure.
"Every penny raised will help fund our network of research to connect patients with the latest treatments for blood cancer as we continue towards our long-term aim of eradicating all forms of blood cancer within 15 years.
"We received great support from Paycare in recent years and they were among the key drivers of the fundraising to support former Wolves goalkeeper Carl Ikeme, and we look forward to hopefully working together again in the future."
Paycare is a not-for-profit Health Cash Plan provider which helps businesses recognise, reward and retain their employees, and provides preventative support covering their physical, mental and financial health and wellbeing needs. For more information about its range of corporate plans and how they benefit both businesses and employees, or to download a copy of its white paper on how Health Cash Plans can improve the health of your workforce, please visit www.paycare.org or call 01902 371000.
Submitted by Jennie from Paycare