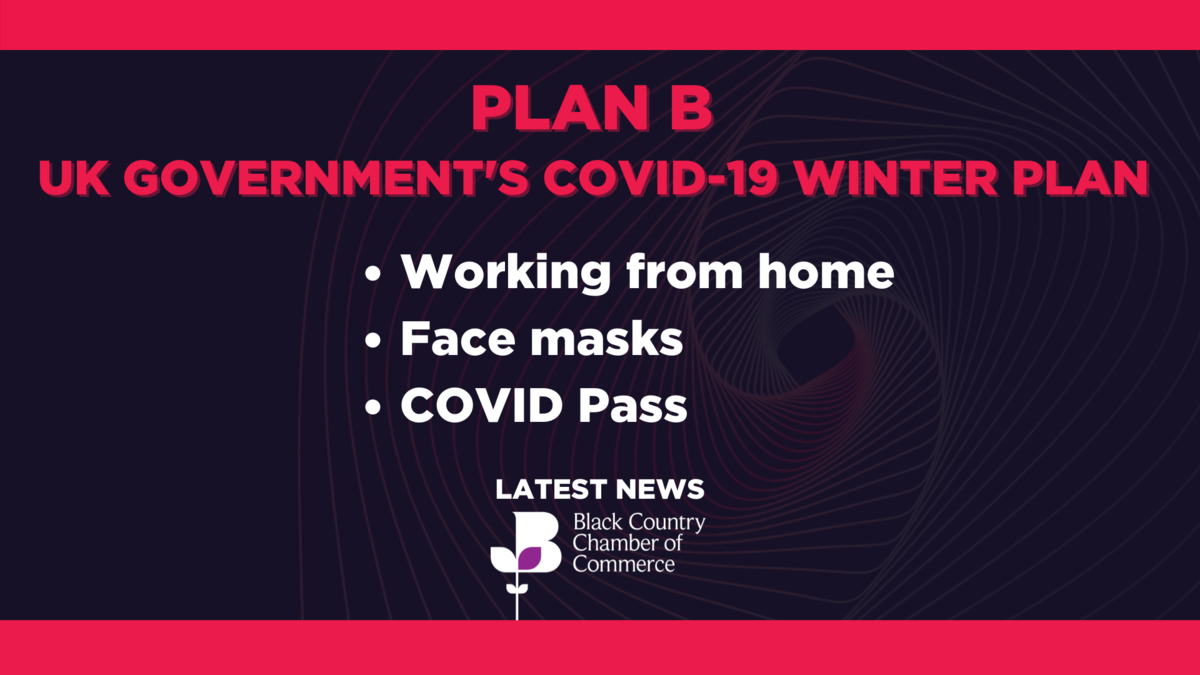 Plan B: UK Government's COVID-19 Winter Plan
08 Dec 2021
Published in: Black Country Chamber of Commerce News
---
This evening, the Prime Minister tightened the coronavirus measures over the increasing spread over the Omicron variant as part of the COVID-19 Winter Plan
---
As businesses once again face restrictions, the Black Country Chamber of Commerce continues to lobby for support for our members that is commensurate with these regulations and supports the regional economy.
Below is a summary of the Government's 'Plan B' measures to mitigate the possible impacts of COVID-19 in the coming weeks.
Work from Home
The re-introduction of working from home has been advised, for those who can, from Monday 13 December.
Face Masks
It will also be mandatory to wear face masks to most public indoor venues which include theatres and cinemas from Friday 10 December. However, there are exemptions to this when wearing a face mask is not practical including when eating, drinking, exercising or singing.
NHS COVID Pass
From Wednesday 15 December, the NHS COVID pass will be made mandatory for nightclubs and large events, including unseated indoor venues with more than 500 people, unseated outdoor venues with more than 4,000 people and any venue with more than 10,000 people.
People can show either proof of two vaccine doses or a negative lateral flow test result.
Baroness Ruby McGregor-Smith, CBE, President of the British Chambers of Commerce, said:
"We have been calling on the UK Government for several months to set out what contingency plans for business would look like if further restrictions were needed this winter. Yet again, firms are now being asked to make changes at the very last minute. Restrictions will also impact on consumer behaviour with knock on effects which could risk the fragile recovery, order books and revenues.
"Many businesses have only just begun to get back on their feet and this move will inevitably damage business confidence. Critically, firms need to know that the Government will support them through this next period.
"The Government must once again stand shoulder to shoulder with business and provide a package of support to ensure that we get through a challenging winter without serious damage to our economic recovery."

---
All of the above information and guidance has been supplied by the UK Government. If you would like to learn more, please get in touch with our policy team via email policy@blackcountrychamber.co.uk