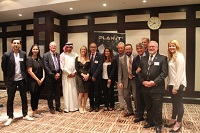 PLANit Global is International
19 Mar 2018
Published in: Member News
---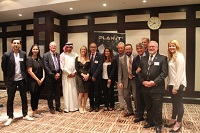 PLANit Global launched their careers information platform in Bahrain on Thursday 8th March 2018 at the InterContinental Regency Hotel. The PLANit Global Bahrain launch was attended by over 110 businesses and/or schools. With speakers from Simon Martin, British Ambassador to Bahrain, Jim Leahy and Khalid Al-Qoud.

"Bahrain welcomes PLANit Global with open arms for supporting the students and the community with the innovative platform. It's a fantastic way to engage young people with ideas and opportunities." commented Jeffrey Thomas, International Business Development, PLANit Global.
---
PLANit Global Bahrain is managed by Dareen Al Saad and is based in 34th Floor, Wyndham Grand Tower, Manama Sea Front. "With PLANit Global, the youth's curiosity will be nourished and their talents consequently cultivated. This platform allows them to navigate through sectors, learn, engage in apprenticeships, work experience, volunteer work and find potential jobs that better match their passion and skills."
PLANit Global exhibited at the GESS Dubai show on 27 February-1 March at the Dubai Word Trade Center in preparation for the big launch. They also exhibited at the Unbound Bahrain event on 7-8 March as part of the Start-Up Bahrain week in partnership with EDB Bahrain.
"We know as businesses you want to help your local schools and communities, but time and resources sometimes make it difficult to physically attend events. PLANit Global allows businesses to have a virtual presence on the platform showcasing what is great about your business and industry sector while promoting the opportunities available within your organisation." David Darlaston, CEO PLANit Global
PLANit Global next event will take place as part of the Black Country Business Festival where they will be celebrating the success of their Bahrain launch and getting even more local businesses and schools to join PLANit Global.
If you'd like to find out more, please visit www.planitglobal.co.uk or call 01902 824212.
Comments
No comments have been submitted yet.