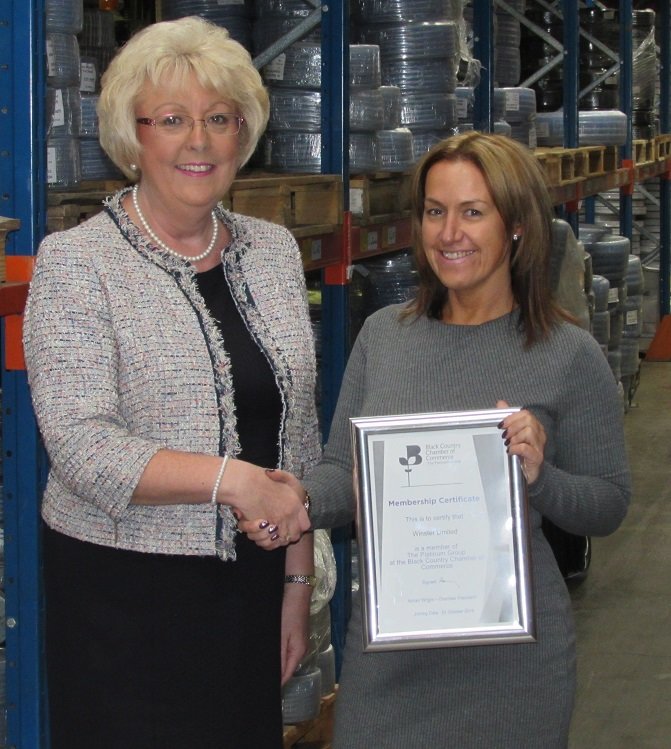 Platinum Group membership renewed again
13 Jan 2022
Published in: Member News
---
5th renewal by Winster Limited
---
Winster Limited has just renewed its membership of the Platinum Group of the Black Country Chamber of Commerce. After joining the group in 2016, this is the 5th renewal and for Winster Managing Director Val Gardner it wasn't a difficult decision.
"Since we took the decision to become a Platinum Group member, we have been very impressed with the results for Winster. We have made good contacts that have really helped our business progress and the events that Gail Arnold organises for the group are always worth attending."
January also sees the 15th anniversary of Val joining the business. Initially recruited by the then Managing Director (and son of the founder), Robert Wheatley to head up the sales team, Val stepped up to become Managing Director in 2016 when Robert moved into the role of Chairman, following the sad death of his father, Bill.
Since Val joined Winster, the company has increased warehouse capacity by 300%, created an in-house manufacturing and packaging department to provide more customisation options to customers and re-engineered many of the internal business processes.
"It's been an exciting time; 15 years has passed very quickly" commented Val. "We've seen strong sales growth in a competitive market; achieved ISO accreditation, and extended our product range. The last two years has been particularly challenging due to external events, and I'm really proud of how we have pulled together as a team and are now well-placed for further growth in the next few years."
If you would like to know more about Winster please click here or call us on 01902 606010. For more information on the Platinum Group of the Black Country Chamber of Commerce, visit the membership pages or contact Gail Arnold on 07810 377819.

Submitted by Chris from Winster Limited