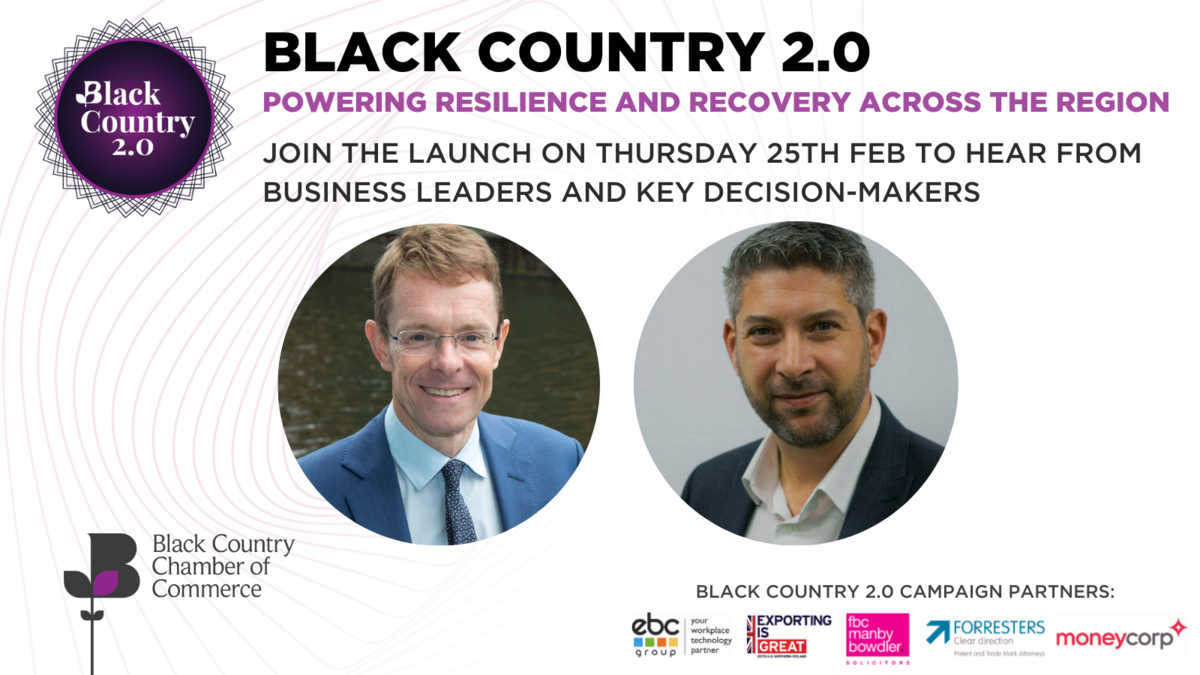 Powering Resilience and Recovery Across the Region as Chamber Launches Major Campaign
15 Feb 2021
Published in: Black Country Chamber of Commerce News
---
The Black Country Chamber has announced it is joining forces with business partners across the region to launch a major business campaign, Black Country 2.0.
---
Your Region Needs You!
Today, the Black Country Chamber of Commerce, the region's longest-running business support organisation, has announced it is joining forces with business partners across the region to launch a major business campaign, Black Country 2.0.

With the significant disruption to lives and businesses, and with COVID-19 continuing to overshadow many plans and operations, the Chamber has joined forces with the Department for International Trade, patent and trade attorneys Forresters, IT specialists EBC Group, FX experts Moneycorp and legal firm FBC Manby Bowdler, to deliver a campaign which will provide expert analysis, relevant information for every business, and with a joined-up call to action for business owners, industry leaders and decision-makers, to come together and work with the power of the Chamber.
"Black Country 2.0 will allow us to amplify the voice of the Black Country, it will ensure the region's business needs are being listened to at highest-levels and provide a collective approach for the region to reboot, rebuild and rebound," said Corin Crane, Black Country Chamber CEO.
"For employers and businesses throughout the region, the effects of the COVID-19 emergency and its economic impact are also taking place during a period when the post-Brexit trading landscape is shaping around us. It has never been more important for us to work together, learn from one another and demonstrate to the world that the Black Country remains firmly and resolutely open for business,"
Mr Crane continued, "Our economy now stands at a crossroads and Black Country 2.0 will frame all the Chamber's activity and support services over the next 12 months and into 2022 as we help members to navigate in these challenging times.
"Time and time again, the Chamber has proved its credentials as the leading business support agency within the region, a natural partner and a thought leader.
Mr Crane continued, "The Chamber has remained a constant point of strength and seal of confidence many regional businesses have turned to over the last two centuries. During that period, we have continued to do what we do best – acting as an enabler, partner and champion for the local economy and our businesses no matter what their size or sector.
"We are the respected and valued voice of the Black Country business community and Black Country 2.0 is a focused and comprehensive programme which celebrates the strengths of our local firms and ensures that those making decisions which will impact our firms are fully aware of our needs and challenges."
The Black Country 2.0 live virtual launch event will be opened by the Mayor of the West Midlands Combined Authority, Andy Street and Jude Thomspon and will take place on Thursday 25th February from 3pm.
The panel event will explore the threats and opportunities open to the region, discussing how we can best support business leaders and ensure their voice is heard.
The audience will also hear from the Department of International Trade on overseas business trends and opportunities and how they can assist with stimulating demand, with particular emphasis on Clean Growth and the Green Economy.
Business owners and leaders from across the region are invited to attend to learn more about Black Country 2.0. and to hear from the panel of leading industry experts.
The event is open to Chamber members and non-members and is FREE to attend.
Book your place now via the Chamber website: https://www.blackcountrychamber.co.uk/events/25022021/black-country-2-0-launch-event/