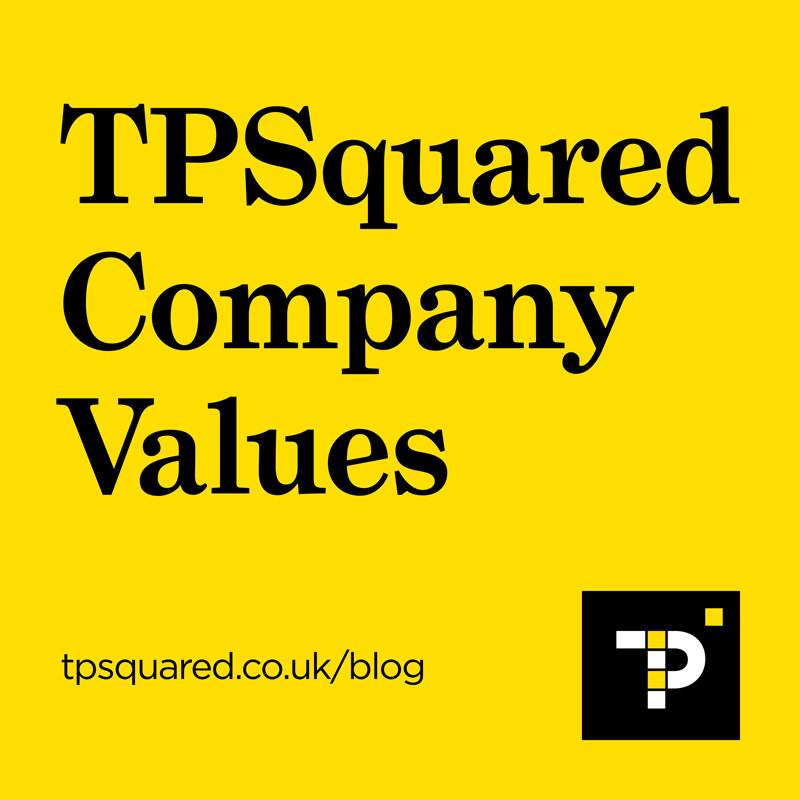 Pride & Proposition
21 Oct 2020
Published in: Member News
---
The core values behind TPSquared explained
---
TPSquared is now just over a year old. Time really does fly when you are having fun.
With every new business you have to do all the things needed to get up and running. It has been a massive undertaking, and a scary thing to do in what were tough enough times before this unexpected pandemic arrived. Even though the team of five have worked together for a long time before, we are now so much closer, having pulled together so well. We have seen skills and confidences grow like you wouldn't believe.
That common understanding of what TPSquared is all about laid the foundation for a healthy company culture. So, together we sat down (virtually) and penned our Mission, our Vision and our Values.
The team collaborated to build and shape our values. We believe they are what set us apart from everyone else.
They are the attitudes and behaviours that make TPSquared a great place to work, and a great team to work with:
Produce quality work – we are dedicated to delivering creative solutions that develop and strengthen brands and products, without over-complicating the process.
Do the right thing – we aim to do the right thing for the right reasons, building trust and reputation to achieve the right results.
Build relationships – we work hard to get clients, we work harder to keep them by continuously focussing on adding value, exceeding expectations, demonstrating honesty and integrity, and working together to achieve success. This same ethos is applied to the people who work at TPSquared and the suppliers who work with us.
Make a difference – we are proud to be in touch and relevant to help make a difference to the businesses, individuals and communities that we work with.
Push boundaries – we push ourselves to enable growth for the individuals in the team, and the team itself, working with each other and experts in other fields to generate new ideas, encourage learning and experimentation.
Have fun – we believe that all the work we do should be with a smile in an environment where people like to be and work, to get the most out of ourselves and encourage our clients to enjoy the process with us.
TPSquared is a design, print and digital studio based in the Midlands. Working with businesses of all shapes and sizes, both locally and nationally, who share the same values. If you are looking for straight-forward help and advice on a range of marketing materials and digital output. It might be branding for your company, printed marketing materials or just a business card - let's talk and we can work together to make the right decisions.
Submitted by Carolyn from TPSquared