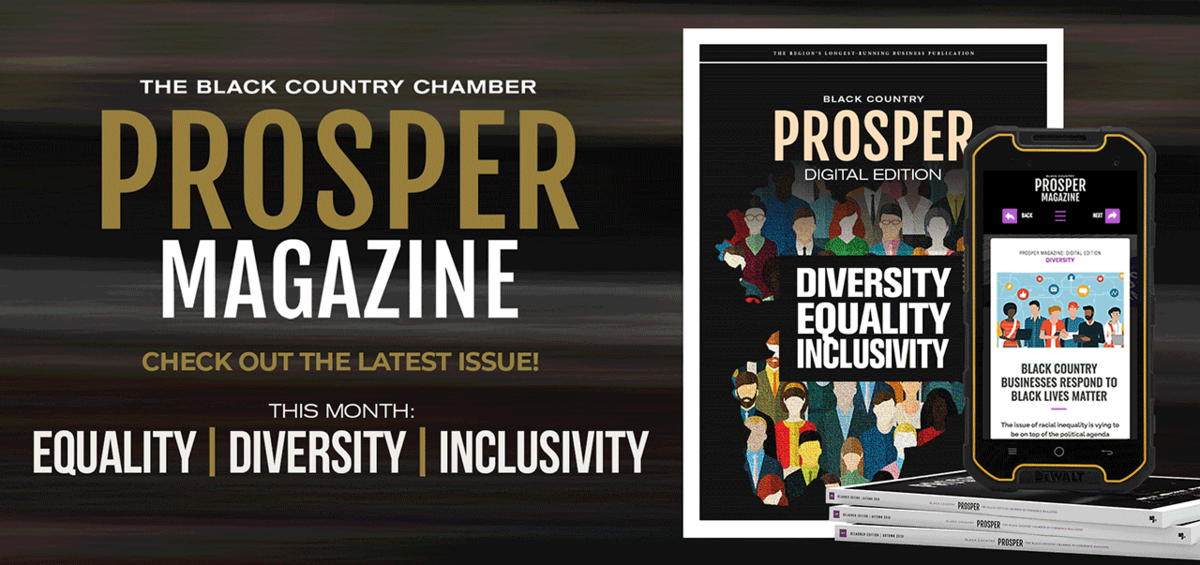 Prosper Magazine - WHY ARE WOMEN-LED NATIONS DOING BETTER WITH COVID-19?
29 Jul 2020
Published in: Black Country Chamber of Commerce News
---
Prosper Magazine - WHY ARE WOMEN-LED NATIONS DOING BETTER WITH COVID-19?
---
WHY ARE WOMEN-LED NATIONS DOING BETTER WITH COVID-19?
The team behind Black Country Women in Leadership look at why countries led by women seem to be particularly successful in fighting the Coronavirus.
Thanks to the efforts of the entire nation, New Zealand Prime Minister, Jacinda Ardern reported in early June, that the country had been successful in meeting its ambitious goal of eradicating, rather than just controlling, outbreaks of Covid-19 after the final person known to have been infected had recovered.
Prime Minister Ardern said she was confident the country had halted the spread of COVID-19 but said it would "almost certainly" see more cases in the future.
"We are confident we have eliminated the transmission of the virus in New Zealand for now, but elimination is not a point in time, it is a sustained effort," she told a news conference.
Ardern's success is the latest data point in a widely noticed trend: Countries led by women seem to be particularly successful in fighting the Coronavirus. Germany, led by Angela Merkel, has had a far lower death rate than Britain, France, Italy or Spain. Finland, where Prime minister Sanna Marin, 34, governs with a coalition of four female-led parties, has had fewer than 10% as many deaths as nearby Sweden.
And Tsai Ing-wen, President of Taiwan, has presided over one of the most successful efforts in the world at containing the virus, using testing, contact tracing and isolation measures to control infections.
In Denmark, meanwhile, the Prime Minister, Mette Frederiksen, acted equally firmly, closing the Scandinavian country's borders as early as 13 March, and following up a few days later by shutting all kindergartens, schools and universities and banning gatherings of more than 10 people.
That decisiveness appears to have spared Denmark the worst of the pandemic, with fewer than 8,000 confirmed cases and 370 deaths. Frederiksen's no-punches-pulled speeches and clear instructions to the nation have been widely praised.
She even managed to show a sense of fun, posting a clip on Facebook of herself doing the dishes while singing along to the 1980s Danish popsters Dodo and the Dodos during the nation's weekly TV lockdown singalong. The Scandinavian country's youngest-ever prime minister, whose approval ratings have doubled to more than 80%, has now begun easing its lockdown.
Norway's Prime Minister, Erna Solberg, told CNN she had made a point of "letting scientists make the big medical decisions", adding that she thought her country's early lockdown and the thorough testing programme had been key.
Following an example set earlier by Frederiksen, Solberg also took the unusual step of directly addressing the country's children, telling them in two press conferences – from which adult journalists were banned – that it was "permitted to be a little bit scared" and that she, too, missed being able to hug her friends.
By contrast, the male-led governments of Sweden and Britain — both of which have high Coronavirus death tolls — appear to have relied primarily on epidemiological modelling by their own advisers, with few channels for dissent from outside experts.
From Germany to New Zealand and Denmark to Taiwan, women have managed the Coronavirus crisis with assurance. Plenty of countries with male leaders – Vietnam, the Czech Republic, Greece, Australia – have also done well. But few with female leaders have done badly.
We should resist drawing conclusions about women leaders from a few exceptional individuals acting in exceptional circumstances. But experts say that the women's success may still offer valuable lessons about what can help countries weather, not just this crisis, but others in the future.
The presence of a female leader may be a signal that a country has more inclusive political institutions and values.
Varied information sources, and leaders with the humility to listen to outside voices, are crucial for successful pandemic response, Devi Sridhar, chair of global health at the University of Edinburgh Medical School in Scotland, wrote in the British Medical Journal.
"The only way to avoid 'groupthink' and blind spots are to ensure representatives with diverse backgrounds and expertise are at the table when major decisions are made," she wrote.
"Having a female leader is one signal that people of diverse backgrounds — and therefore, hopefully, diverse perspectives on how to combat crises — are able to win seats at that table."
Prosper spoke to female leaders from the Black Country and asked for their thoughts on the findings.
"This will go down in history as one of the most significant global challenges we have all faced", Lisa Cowley CEO of the Beacon Centre told us, "As CEO of an organisation, that is doubly difficult, having to consider the organisational impact and carrying the weights and concerns of your colleagues as well as your own.
"As CEO of a health and social care charity, these challenges increase exponentially, as a leader I feel there is no option but to lean in and to put those vulnerable people who rely on you first.
"I am not ashamed to say I have shown emotion in front of my colleagues and members, I have cried for their loss and pain. "As a woman, I suppose that is more acceptable than it would be for a man, but I don't believe it should be.
"A widely shared quote by Jacinda Ardern, who has led so remarkably, struck a chord with me and has given me strength in my belief that as leaders we are serving those that follow us rather than the other way around.
Alice Evans a sociologist at King&aposs College London reported recently that there is an expectation that leaders should be aggressive and forward and domineering. "But if women demonstrate those traits," she said, "then they are seen as unfeminine. That makes it very difficult for women to thrive as leaders".
Beacon Centre CEO Lisa said, "One of the criticisms I have faced over the years is that I'm not aggressive enough or assertive enough, or maybe somehow because I am empathetic, I am weak. I totally rebel against that. I refuse to believe you cannot be both compassionate and strong."
Professor Clare Schofield, Director of the University of Wolverhampton Business School, is responsible for over 70 staff and 2800 students, she said: "Research suggests that diversity in leadership teams results in positive organisational outcomes, so I am not surprised to read of the success that countries with female leaders have achieved compared to those with male leaders."
"Governments and organisations are required to constantly adapt and change to demographic, environmental, economic and technological trends but the pandemic has placed extreme pressure on us all. Planning cycles have been shortened, strategies have been reviewed and the focus has been on swift action to respond immediately.
"Through the crisis, many organisations have learned that they can change quickly but they have also learned about their change barriers and resistors. In many cases, this is their people and their systems. The traditional dominance of western, masculine role models in positions of power has created archetypes in our consciousness of what leaders are and how they act.
"However, as we have recently observed, organisations have focussed attention on promoting diversity and inclusion and it has resulted in new and different role models of leadership.
"That is not to overlook the lived experience of those people faced with being different within homogenous leadership teams and we must provide effective support to ensure their careers have longevity so they can inspire the next generation.
"The success of diverse leaders has caused us all to question leaders and the nature of leadership. Leaders should be judged by what they achieve and not by who they are, but it is often who they are that dictates what they can achieve.
"The common factor in the success of the female leaders is the development of multidisciplinary teams with different skills and experience. From my own experience of being a female leader, I am less inclined to seek 'hero' status because I understand the power of teams, the power of challenge and the power of humility in taking action."
But, in conclusion, New Zealand's Ardern's approach to fighting the pandemic could not be further from that traditional archetype. But on this new kind of crisis, her cautious leadership has proved successful.
After New Zealand began its lockdown March 25, Ardern addressed the nation via a casual Facebook Live session she conducted on her phone after putting her toddler to bed. Dressed in a cosy-looking sweatshirt, she empathized with citizens' anxieties and offered apologies to anyone who was startled or alarmed by the emergency alert that announced the lockdown order.
"There's no way to send out those emergency civil alerts on your phones with anything other than the loud honk that you heard," she said ruefully. "That was actually something we all discussed: Was there a way that we could send that message that wasn't so alarming?"
Male leaders can overcome gendered expectations, of course, and many have. But it may be less politically costly for women to do so because they do not have to violate perceived gender norms to adopt cautious, defensive policies.
That style of leadership may become increasingly valuable. As the consequences of climate change escalate, there will likely be more crises arising out of extreme weather and other natural disasters. Hurricanes and forest fires cannot be intimidated into surrender any more than the virus can. And neither can climate change itself.
Eventually, that could change perceptions of what strong leadership looks like. What we learned with COVID-19 is that, actually, a different kind of leader can be very beneficial. Perhaps people will learn to recognise and value risk-averse, caring and thoughtful leaders. Article: https://www.prospermagazine.co.uk/female-leaders.
To receive a free copy of Prosper Magazine, the regions longest running business publication direct to your inbox every month, please register via www.prospermagazine.co.uk
Next Time: Prosper explores: International Trade - From the Black Country to the World - Black Country International - Future Trading Relationships & New Markets