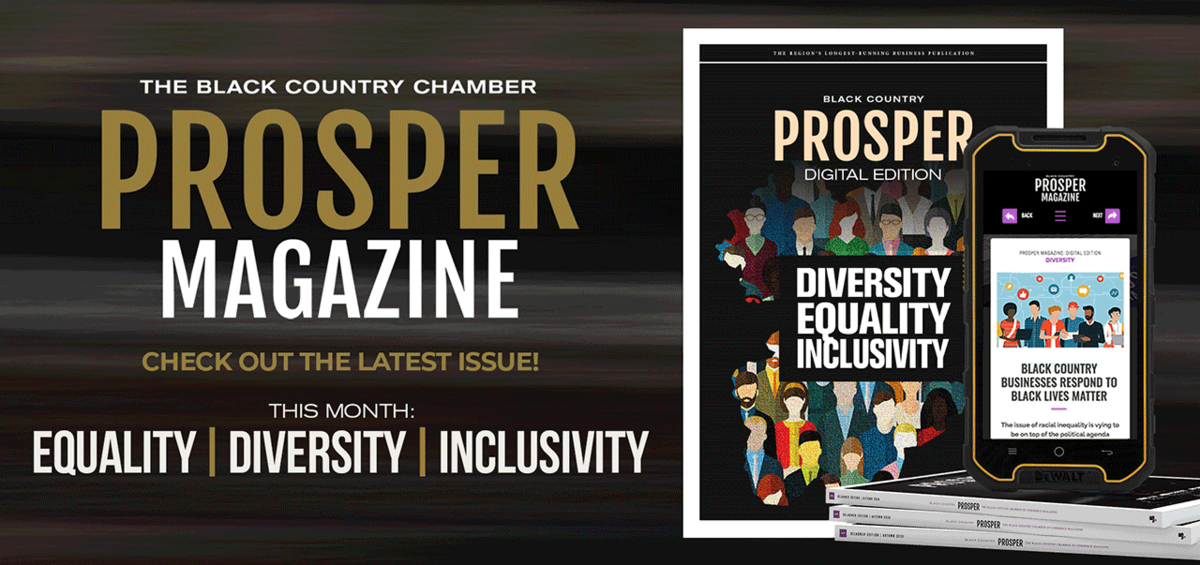 Prosper Magazine - BLACK COUNTRY BUSINESSES RESPOND TO BLACK LIVES MATTER
29 Jul 2020
Published in: Black Country Chamber of Commerce News
---
BLACK COUNTRY BUSINESSES RESPOND TO BLACK LIVES MATTER
---
BLACK COUNTRY BUSINESSES RESPOND TO BLACK LIVES MATTER
The issue of racial inequality is vying to be on top of the political agenda alongside the Coronavirus and, what unites them, is that they are both social ills. In many respects, the coronavirus is the easier of the two issues to tackle because, ironically, it is indiscriminate. Inequality is exactly the opposite, it is discriminate.
Regionally speaking; businesses have, so far, stayed mostly silent on the issue. Some are fearful of commentating on or publicly showing support on something which they do not feel they are equipped or qualified to speak about.
Many more have seen how, through what can be construed as a tokenistic response, can instantly result in a social media backlash.
The Black Lives Matters movement has rapidly shone a spotlight on the issues faced by our employees and customers - urgently revealing to many of us that as business owners and leaders, merely thinking of these matters in terms of 'Protected Characteristics' with occasional initiatives which tick the 'diversity box' is a woefully inadequate response.
Behind the movement lies real stories of real people who have been viewed differently, second-guessed themselves or been held back.
The Black Country Chamber of Commerce plays a vital role as the business community's representative and champion. Over the last three years; the Chamber has increasingly challenged views and perceptions and has been working hard to help businesses further their work around inclusive leadership and become more representative in their thoughts, composition and reflect the communities they operate in.
Like many businesses across the Black Country though, the Chamber has an all-white senior management team and any response it created which could go some way to providing businesses with a roadmap or guiding principles on how they themselves might respond to the Black Lives Matters movement, wouldn't be authentic and would not be right.
In June, in order to begin the much-needed debate, highlight the challenges our colleagues and clients are facing on a daily basis the Chamber's Chair, Bankie Williams, invited business leaders and professionals to join him in a conversation to explore what it means to be BAME within the workplace.
What follows is a summary of the discussion and a starting point for a process of collectively working together to develop a positive approach for businesses around how they can make a real and sustainable difference in order to fully support and benefit from a multi-talented, multi-ethnic, vibrant and engaged workforce.
PARTICIPANTS:
Bankie Williams Chair of the Board at the Black Country Chamber of Commerce
Paul Jones Founder and Creative Director, Goodstart Jones
Ruth Trethewy Employer Advisor, Department of Work and Pensions
Wendyanne Shapiro Leadership & Management Consultant, Lotus Flower Consulting
Shaz Rahman Digital Marketing and Communications Officer, Black Country Chamber of Commerce
Wayne McFarquhar Business Development Co-ordinator, Black Country Growth Hub
Sarah Farnell Head of People, Black Country Housing Group Denise Myers CEO, Evenfields Careers
Sajida Carr Director of Operations and Development, Creative Black Country Van
Roy Barrett MBE Coaching Specialist, VHR Coaching
Neil Anderson Director of External Affairs, Black Country Chamber of Commerce
"Bias is everywhere in business, but I'd like to think it largely unconscious in the most part," begins Paul. "I have faced quite a lot bias and, whether it is indeed unconscious bias, it is bias none the less – and it runs across all levels of an organisation. I once turned up for a job interview as a furniture designer with a major well-known retailer. The receptionist looked at me and clearly hadn't heard what I'd said because she suggested I'd got it wrong and that I should be there for another job – one let's say that didn't align itself to the type of job I spent years training and working towards.
"Now, my name doesn't sound particularly ethnic and whilst it was my name and experience which got me the interview; the receptionist clearly hadn't perceived that somebody who looked like me could do for the job I was being asked to interview for. Sufficed to say, the recruiting manager and later the receptionist apologised for any confusion – but this is just one example of the many times I have faced bias."
For Wayne, this type of institutional racism still persists throughout business. "We have large corporations, big businesses and local authorities where opportunities are frequently marginalised or are just unavailable to the BAME community. It is imperative that there is greater understanding – at all levels – of different backgrounds and a better understanding of an individual's skillset rather than a preconceived notion of what an individual might be capable of doing because of the way they look. We need to ensure that BAME individuals are not overlooked and that they are also included in the decision-making process."
Picking up this point further, Shaz continued 'I'm quite passionate about working in organisations or for organisations who represent the communities they operate in.
Within the West Midlands, we have a higher proportion of BAME communities than other areas of the UK yet often our businesses do not look or feel like the people who live here and work here. This is especially true at a senior level and leaders need to be aware of this."
For many in the group, tackling these issues begins with recruitment – if a business does not open itself up to changing its recruitment processes then retention of talent, promotion decisions and combatting institutionalised bias are harder to combat.
Denise has responded directly to this point through her own business and said "my business is recruitment and the business was set up because I know that people like me have a harder run to get through the front door and progress once inside an organisation. The recruitment process is often the barrier and if a business doesn't get that right it often struggles on-going with how to develop and retain talented BAME individuals."
With larger organisations who believe that they have the systems and processes in place to tackle this, Sarah suggests that this might not be enough.
"We need to find more innovative ways to recruit. When it is time to refresh policies or strategies, we need to ensure that they are living and breathing documents which are actively put into practice rather than just revisited because the audit tells us it's time to do it. We then need to embed this work throughout the organisation and not just coming back to it in three years' time."
The Group's Further Thoughts:
Business works better when it embraces different perspectives – diversity is power and brings opportunities for all
Businesses should honestly look at the communities it operates in and its customer base, ask itself does it truly reflect them and take appropriate action
Businesses need to understand what is holding back individuals for going for the next promotion or opportunity
Businesses should assess their recruitment processes and ensure that bias is not playing a part within it
Businesses could take a decision to proactively recruit for difference
Businesses should encourage or sponsor the establishment of small, idea-focused working groups who can help shape and inform change
Businesses should engage younger employees and let them play a role in developing solutions
Exploring this further, there was a consensus that whilst the systems and processes are important, they need to be measured in a tangible way.
Picking up this point, Sajida suggested "targets, whilst being set and something to work towards are, in the most part, a good thing. Targets should not just be quotas or be a box to tick and we also need to be mindful of the anonymity associated with them.
As leaders working in the background; these targets should be aspirational and actively worked towards but, for an individual, they won't necessarily view the fact that they might be a 'target' as a positive thing – despite any positive sentiment behind it. People are individuals and this should work alongside any targeting setting."
Expanding on this, Denise believes that "targets should be set and they should be set across the board – through recruitment and retention and really examine the make-up of teams and how diversity of thought and background can help that teamwork. We should actively seek to bring people into businesses who reflect a business' customers from entry-level roles through to leadership." Leadership is a theme which the group returned to throughout the discussion.
"Being a leader is to be in a privileged position and being a white male leader comes with its own privileges – particularly around access and opportunities. For any business which has a wholly or predominately all-white leadership we need to be acutely aware of this privilege as we plan a response to this, actively challenge it; check policies and procedures and bring in diversity of thought and different views to the process. Many of us who believe that we have been flag-waving champions for inclusivity actively want to support this movement, make a difference but many businesses are just struggling about how, when and what to do," said Neil.
"As a white senior woman, I know that I am potentially missing out on people's perspectives and experiences and it is important that we don't lose sight of that and that we talk with people to capture their view," added Sarah.
Wendyanne added, the work which needs to be done is about 're-education' and is for leaders to particularly be aware of.
"Businesses need to absolutely be thinking differently in terms of recruitment but also other strategies and call upon leaders – particularly in the corporate world - to proactively look for differences when it comes to any recruitment and promotion or succession planning for that matter; it needs to be done fairly and in a considered way; the solution will not just land in their lap."
Across the group, it was felt that businesses and their leaders who want to make that positive difference should not only actively seek out diverse views, strive to appoint diversity within its leadership but begin a dialogue with its BAME employee and customer communities and not be afraid to get it wrong occasionally.
For many, having that 'permission' and understanding that any missteps are coming from a place of wanting to do better rather than rooted in arrogance or lip service was a key part of this process. Having businesses who want to actively be part of the solution is important just as is the development of active champions, allies or even better; highly visible BAME business professionals – particularly those at a senior level. "I cannot stress enough how important it is for BAME employees and in particular younger individuals to see individuals who look like them doing senior roles – young people both need to know what opportunities are out there and that those opportunities are for them," said Denise.
"The young are driving this right now, are doing things very quickly and in real-time and the world is changing hour by hour. For instance, one young lady has set up a Black-Owned Business group on social media and, in less than two weeks, there are now over 100,000 people on there who are now directly supporting black-owned businesses. Networks and institutions need to very much consider their response otherwise they will be left behind."
The need to do this for the next generation featured heavily during the hour-long session with Bankie stating 'I am male of a certain age, so this is all about change for the next generation' and Sajida adding 'young people, in particular, have driven this movement over recent weeks. We need to encourage them to have a voice at the table and be brought in to help develop the solution as well as be given ownership of it.' "It's about the confidence young people need with being comfortable about themselves, what their abilities are and what they have to offer. Our mentor programme is about helping young people who perhaps lack that conviction in their abilities and this movement, and our responses need to have young people at its heart," suggested Ruth.
Wayne feels it is absolutely our children who will benefit from this, "young people are so in tune with things like social media and now appear to be the generation who have said enough is enough. They've responded by thinking that if they don't do something now then subsequent generations will continue to suffer the same injustices as those which proceeded them."
For Van, the movement of recent weeks is very much a continuation of other movements but feels that this one will not simply fade out. "Previous movements have had figureheads such as Dr Martin Luther King or Malcolm X but became less visible following their assassinations.
"This younger generation seems to have given rise to a movement with collective ownership and this generation is very knowledgeable, articulate, thoughtful, passionate and action orientated. What they are doing right now and the institutions – including the business world – they are shining a spotlight on is asking people to recognise their view and the contribution they can make. They are telling their truths and it is up to us all to listen, take note and respond."
In conclusion to the discussion, the group very much advocated the power of networks, visited other initiatives such as the LGBTQ+ grassroots movements and how they've engaged businesses with Sajida suggesting 'these opportunities and solutions will only come through discussion, debate and a willingness to progress.
"They will come through our networks and the new networks we develop. For many organisations, they do not have the links to these sectors of societies or know how to go about getting those links so we need to find ways to help them get access to those communities so they can further their understanding and develop workable solutions."
"The UK will never be competitive and will never reach its full potential unless it opens up as a whole to a society" Paul added as a concluding remark. It was felt by everybody who joined the meeting that the surface hadn't even been scratched and there was a willingness to do so much more as a newly formed group in order to make business truly representative of society, help businesses to develop a sustained and positive response to the Black Lives Matter movement and encourage them to think differently to establish a set of principles and standard by which Black Country businesses can hold themselves to account.
Article: https://www.prospermagazine.co.uk/black-lives-matter
The conversation will continue, and a further meetings planned. If you are interested in joining the discussion and helping to develop a business response please email neilanderson@blackcountrychamber.co.uk
To receive a free copy of Prosper Magazine, the regions longest running business publication direct to your inbox every month, please register via www.prospermagazine.co.uk
Next Time: Prosper explores: International Trade - From the Black Country to the World - Black Country International - Future Trading Relationships & New Markets