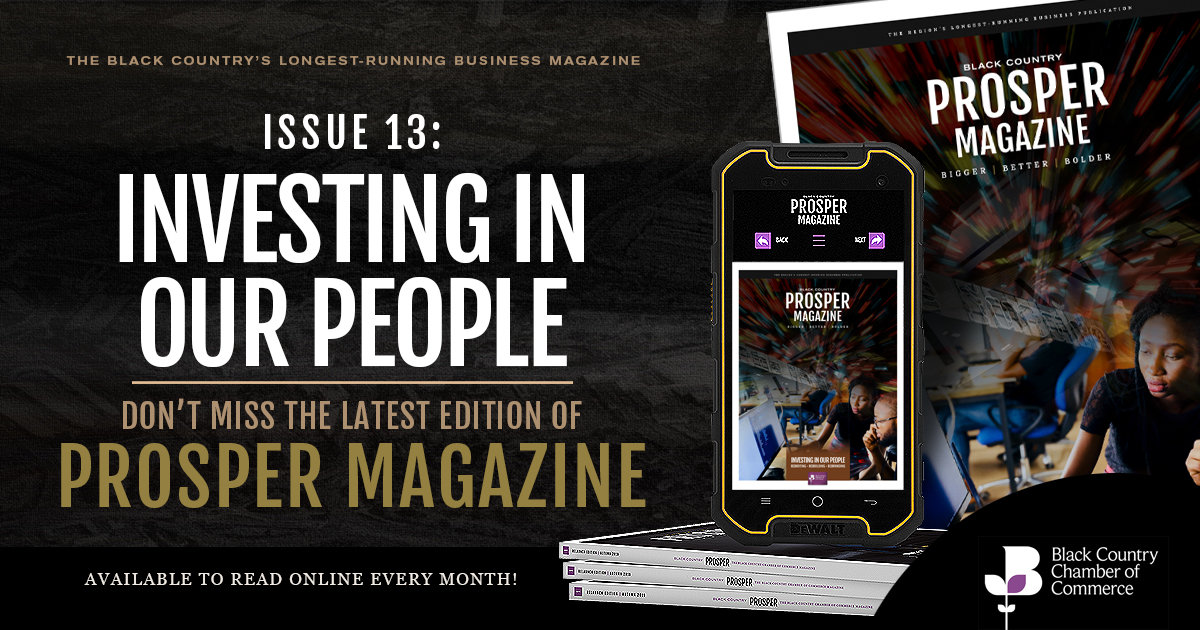 Prosper Magazine Out Now
17 Sep 2021
Published in: Black Country Chamber of Commerce News
---
Prosper-Magazine-Out-Now-
---
Welcome to the next edition of Prosper Magazine
Editor's Words
Last month I wrote here about businesses across the Black Country looking forward to the gradual easing of Covid-19 restrictions and planning a smooth transition back into the workplace over the coming months, with all the challenges that has bought, but as furlough ends and we go into September, bosses seem genuinely shocked by the hesitancy from their employees to return to offices, a growing reluctance to abandon home-based routines, and even mass disillusionment with careers and some employees thinking about different career paths all together.
This latter, longer-term trend is perhaps the most worrying. In the US it's been branded the 'great resignation', with about one-third of employees apparently looking to change job or career.
Could it be that, like health or hospitality workers, those employed in any 'service'-sector organisation have been traumatised by the experience of living and working through the past 18 months?
Meanwhile over the summer, the economy has been hit by several factors including labour shortages, new immigration rules, and the lingering effects of the pandemic with a number of large companies affected and hitting supplies of everything from McDonald's milkshakes to medical test tubes.
There is estimated to be a shortfall of around 100,000 lorry drivers - triggered by an exodus of foreign nationals during the pandemic, post-Brexit immigration rules, and self-isolation requirements, whilst just this week the Recruitment and Employment Confederation (REC), reported that the UK had 1.66 million job openings at the end of last month.
The huge number of driver vacancies has been compounded by more general labour shortages affecting meat packing and fruit picking jobs which have impacted stock levels in supermarkets and fast food chains.
All of this has been exacerbated by the summer holidays when fewer people are working. So, as recruitment companies report record numbers of vacancies and our schools, colleges and universities return to educating the current and future workforce, it seems only natural that in this edition of Prosper we focus our attention to those education, training, learning and development opportunities across our region.
We talk legal talent with FBC Manby Bowdler, education, skills and the future world of work with Professor Clare Schofield, Director at the University of Wolverhampton Business School and ask Forresters why staff retention shouldn't be an outdated concept.
As a Chamber committed to advocating for regional businesses at the highest levels, we bring you our interview with Sir Keir Starmer MP, Leader of HM Official Opposition, following his meeting with businesses from the hospitality and visitor economy sector held at the Mount Country Manor Hotel last month, and there's a full round up of Chamber events and activities, including next month's packed programme from the Black Country Business Festival, an update on our Black Country 2.0 campaign and this year's Chamber Business Awards.
To read: https://www.prospermagazine.co.uk/