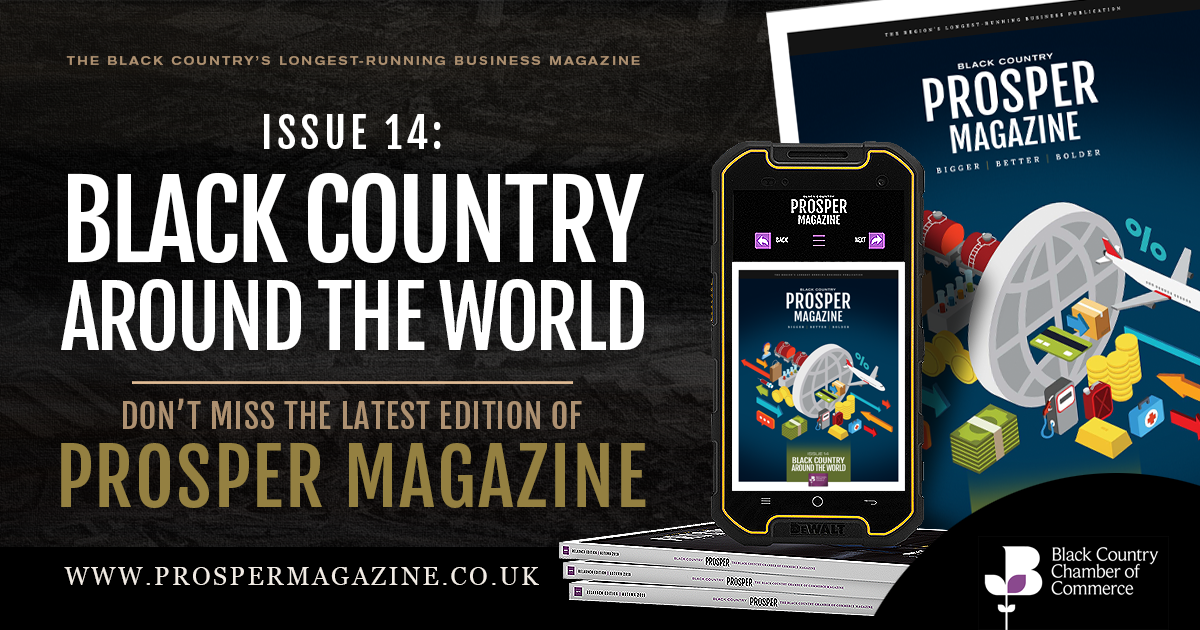 Prosper Magazine Out Today
24 Nov 2021
Published in: Black Country Chamber of Commerce News
---
Prosper Magazine Out Today
---
Out Today The Region's Longest Running Business Publication - Prosper Magazine
Editor's Words
And here we are….
Almost at the end of another long and tumultuous year that has seen lockdowns, levelling up and life working from home still very high on most people's agenda, whilst businesses still face increasing pressures with supply chain disruption, logistics, the rising cost of energy prices and recruiting and retaining staff.
The sight of festive decorations, a clear reminder that the big day looms and we find ourselves talking a little more now of the C word – no, not Covid but Christmas, with the hope that Christmas will mean we can spend time with family and friends, something many were unable to do last year.
On Friday we witness yet another Black Friday across the world, a colloquial term for the Friday following Thanksgiving Day in the US, with many retailers offering highly promoted sales.
As our local businesses begin to assess the success of this year's Black Friday and prepare for what should normally be the exciting prospect of Christmas shoppers, there is early evidence that footfall is back at pre-pandemic levels at weekends, but weekdays are incredibly quiet – suggesting that the dual issue of online shopping and the absence of office workers is having a demonstrable impact.
It's clear that the face of highstreets was changing before Covid, but lockdown has meant that changing consumer habits have been accelerated and may have changed forever.
Every office-based business, from councils, to accountants and estate agents, are all looking at new hybrid models of working, with smaller offices and more homeworking. In this month's Prosper Magazine we explore the issues all our businesses continue to face.
We hear from leaders across many sectors as they joined Chamber CEO Corin Crane earlier this month at the Black Country Economic Conference, meeting to discuss the economic challenges businesses are tackling due to Brexit and Covid-19 and exploring the prospects for regional firms as part of the Chamber's most ambitious campaign in its history, Black Country 2.0.
We also say farewell to the Chamber's outgoing President, Jude Thompson and introduce you our new President Sarah Moorhouse, along with our new Board members and the recently launched Black Country Think Tank.
We celebrate with all our 2021 Business Awards winners and there's news from the Black Country Women in Leadership initiative.
Our focus this month is on International Trade and we've news, case studies and introductions from teams across the globe.
We look at navigating the post Brexit waters, keep mental health on the agenda, explore the evolving law for employers regarding long Covid in the workforce and hear warnings for employers regarding flexi working.
Plus much more…………
Read Now:

https://www.prospermagazine.co.uk/14-01