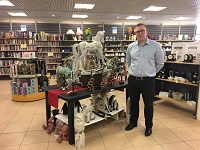 Retail Boss Shops for a Degree Apprenticeship
07 Mar 2018
Published in: The Chamber Patron Group
---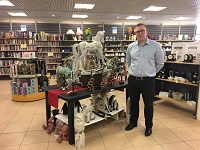 A local retail manager has bought into higher level study on the University of Wolverhampton's Degree Apprenticeship programme.
Robert Evans, 33 from Codsall, works as an Area Retail Manager for the Beacon Centre based in Wolverhampton and is studying for a Chartered Manager Degree Apprenticeship in the University of Wolverhampton Business School.
---
Robert, who had previously worked for the Co-op for sixteen years, now runs seven Beacon Centre shops, including a café and a warehouse, across the Black Country.
The Chartered Manager Degree Apprenticeship, BA (Hons) Business Management, is designed for professional managers who take lead responsibility for people, projects, operations and/or services to deliver long term organisational success.
The three year part-time course covers all aspects of business, including management, marketing, human resources, finance and operations management. Delivery is by a mixture of face-to-face, distance learning and in-house company mentoring and training support. Learning focuses both on theories and the application of all aspects of management.
Robert said: "I started to study for a Higher National Diploma in Building Studies when I was 18. My family members were working in the building trade and after my A Levels I wasn't really sure what I wanted to do.
"I didn't finish the qualification but started to work full-time in retail and was really enjoying the job. I worked my way up to become a Supervisor and Store Manager and my aim was to progress to Area Manager.
"My biggest regret - and it was always at the back of my mind - was that I hadn't studied for a degree. Even though I've got lots of work experience, I haven't got any qualifications that match my level of practical experience. Becoming a Chartered Manager is my ultimate goal which is why this Degree Apprenticeship fits so well with my ambition - I learn really well from actually doing something."
The Beacon Centre is a non-levy company which contributes 10% towards the cost of study with 90% of the degree funded by the government.
Robert added: "The learning is really relevant to what I am doing at work. At the moment we are studying Motivational Theories and I'm finding lots of opportunities to bring my learning into the workplace."
Catherine Craig, Enterprise Director at Beacon Centre, said: "It really is wonderful having an institution right here on our doorstep that is offering this kind of flexible higher level qualification. We are committed to getting the very best from our staff and when Robert approached us to ask about studying while he was working, we were fully supportive of his ambition."
Having been awarded £250,000 funding from the Higher Education Funding Council (HEFCE) in 2017 to develop its Apprenticeship offer, over 150 apprentices are already studying for Higher and Degree level qualifications at the University.
The University of Wolverhampton has secured an additional £460k funding to deliver training for Degree Apprenticeships to non-levy paying companies.
The allocation of money was approved by the Education and Skills Funding Agency (ESFA) recently and means that the University can widen its support for local businesses looking to upskill their workforce.
The University offers Higher and Degree Apprenticeships in Chartered Management (CMDA), Higher Apprenticeship in Construction Management with pathways for Civil Engineering & Built Environment, Chartered Surveying, Chartered Legal Executive and Healthcare Science Practitioner Degree Apprenticeships.
Future Higher/Degree Apprenticeships will include Digital Technologies, Manufacturing Engineering, Product Design & Engineer, Civil Engineering, Policing, Social Work, Nursing, Nursing Associate and Paramedic Degree Apprenticeships.