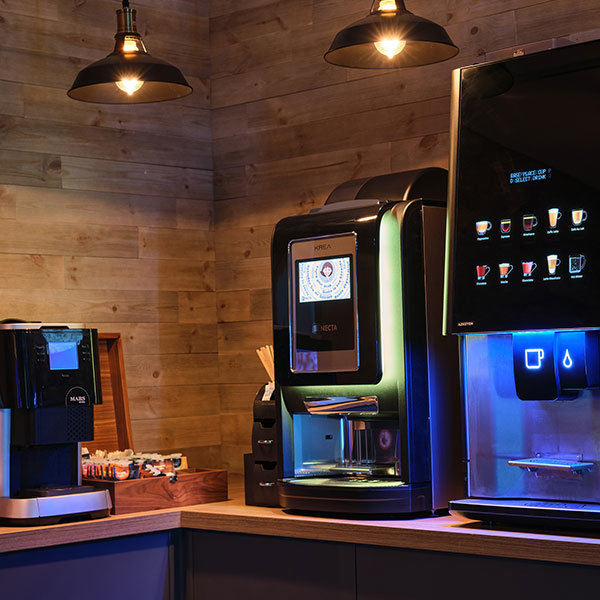 Rethink your workplace wellbeing initiatives with the help of Black Country vending firm Coinadrink Limited.
10 Jun 2020
Published in: Member News
---
As more businesses head back to the workplace, a vending machine is a safe way to keep your workforce refreshed.
---
A trusted West Midlands vending supplier, Coinadrink Limited has been providing hot and cold drinks, fresh food, snacks and water for over 58 years. Vending and workplace refreshments are a great way to boost the morale and productivity of your workforce, whilst remaining a safe entity for the provision of food and drink in the wake of the COVID-19 pandemic.

Workplace refreshments are a key tool to improve the wellbeing - and therefore productivity - of your employees.

From a recent survey carried out by Nespresso, 90% of nearly 3000 respondents said having access to high quality tea and coffee motivates them to do their best, whilst 67% said they felt more productive after a relaxing coffee break. Coffee breaks also help boost staff engagement, too, with 81% saying it helped them feel closer to those who they work with every day.

The Black Country vending firm takes the time to understand your requirements and tailor their extensive range to suit. These include floorstanding vending machines, tabletop coffee machines, snack machines and water dispensers. Coinadrink Limited leads the way in quality, innovation, customer service and hygiene standards to deliver a vending experience you enjoy every single day.

Coinadrink are not in the business to sell boxes and treat you like any valued customer should expect to be treated. Their flexible customer service strategy includes a pro-active customer care department and an industry leading service response time which sits at just under two hours.

As your workers head back to the office, isn't it time you rethought any wellbeing initiatives? Choose workplace refreshments. And choose a trusted, well-respected supplier to help. Contact Coinadrink on 01922 640777 for an informal, zero-obligation chat about your requirements, or contact them here.
Submitted by Alistair from Coinadrink Limited